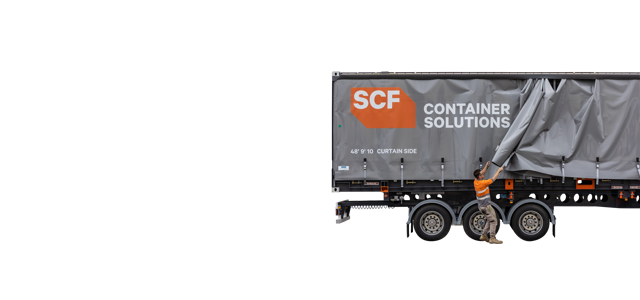 SCROLL
Containers Designed Especially for Road and Rail?
SCF design and manufacture containers specifically for Australian road transport. They come with a range of functionality and safety features that are critical for road and rail operators.
Container Trailers by SCF
Your all in one solution for Australian road and rail transport
Unlike conventional shipping containers, SCF's intermodal container range is designed and built for Australian transport, accommodating two Australian standard pallets side by side for enhanced efficiency and versatility. When paired with an Australian-built SCF skel trailer, this seamless combination offers an unparalleled trailer alternative with enhanced efficiency and capacity. 
SCF's Intermodal Containers
Browse our range of Intermodal containers designed to perform over and over again in Australia's harsh conditions. From truck, to train, and back to truck, take advantage of the flexibility a container represents for your fleet.
SCF's dry end door pallet wide containers are the original intermodal solution. Easy to use, reliable and consistent. With Vertical Load Bars, you can double internal storage.
See more details
Tautliner containers are easily accessible from both sides. They come with gates to protect palletised goods that can be easily and safely removed by operators, and Mezzanine Decks are optional to increase internal storage.
See more details
Refrigerated containers will keep goods cold for days on end. With superior thermal insulation, machine run time is kept down to maintain a constant internal temperature.
See more details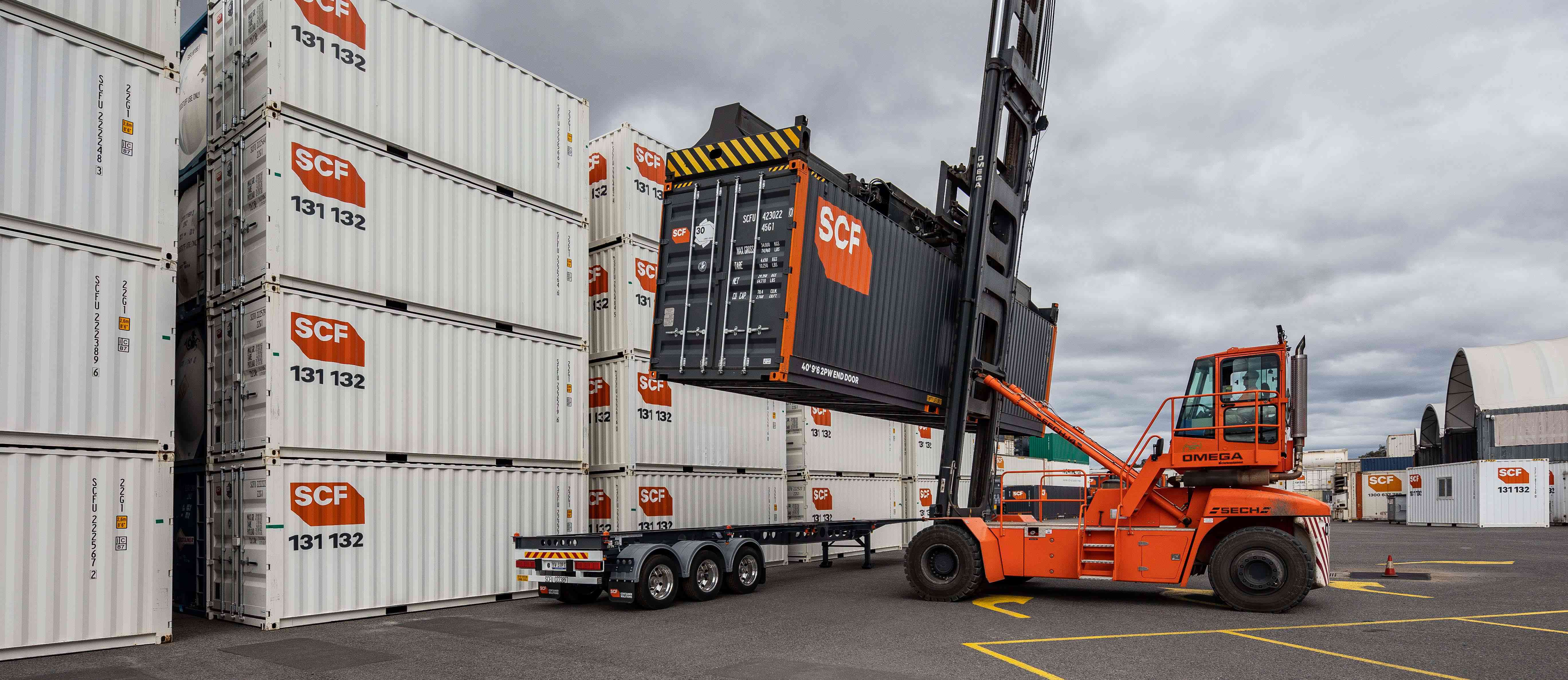 Not Just a Shipping Container
SCF's specialized intermodal container range has been developed in conjunction with, and specifically for, the Australian transport industry.  
What started out with furniture removalists over 30 years ago quickly grew to incorporate intermodal customers. With that came containers built specifically around the needs of these customers, including the ability to hold two chep pallets, in addition to further restraint and safety features.
Our containers have been, and will continue to be, refined in consultation with customers and engineers to ensure the demands of the changing industry continue to be met.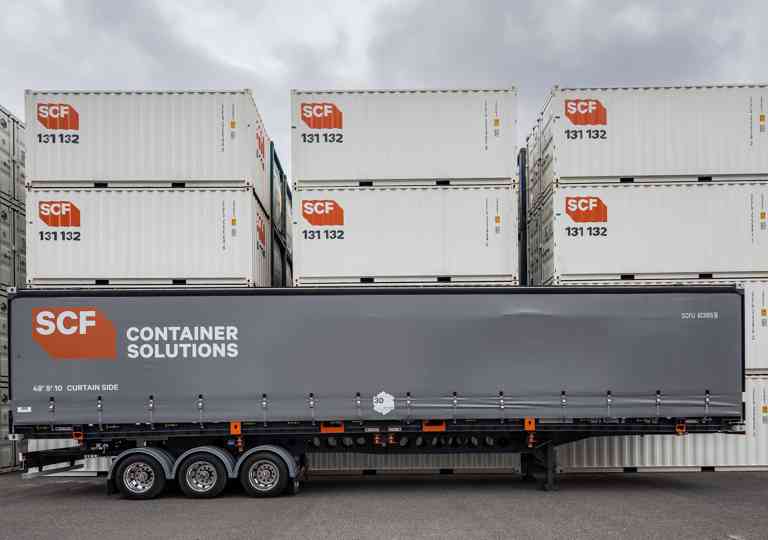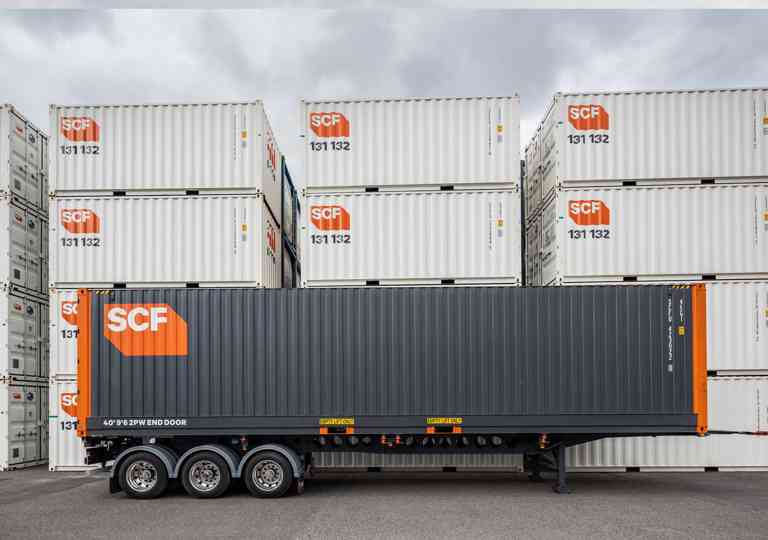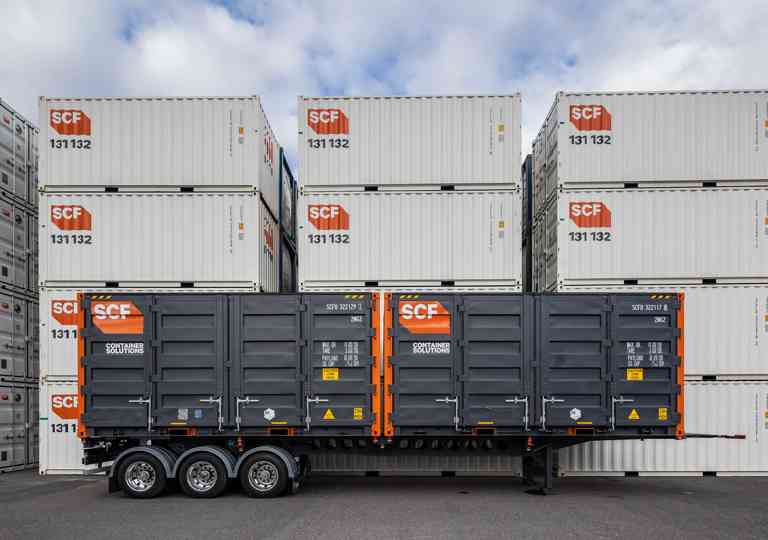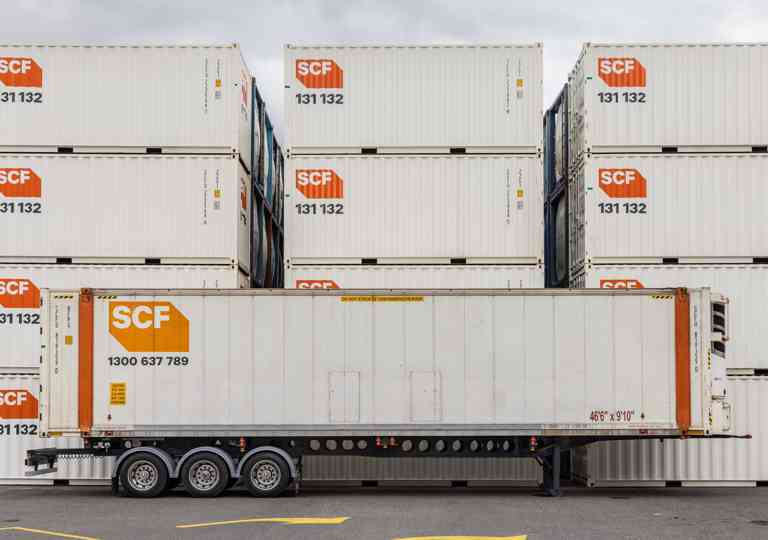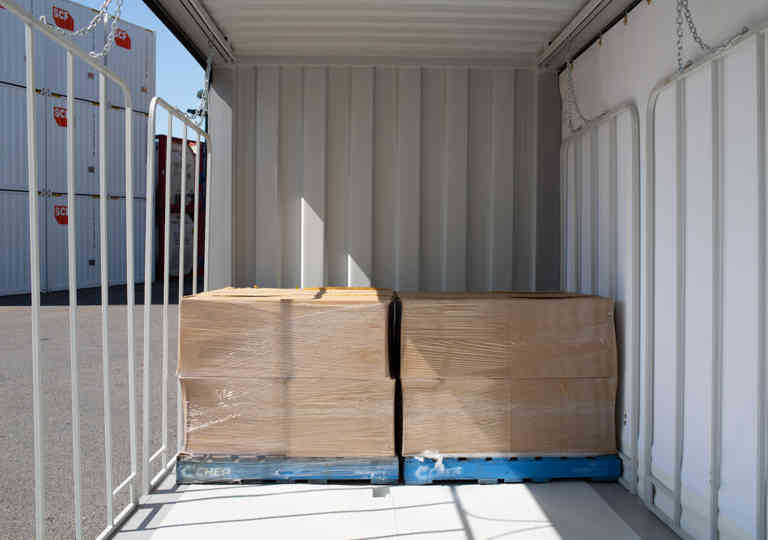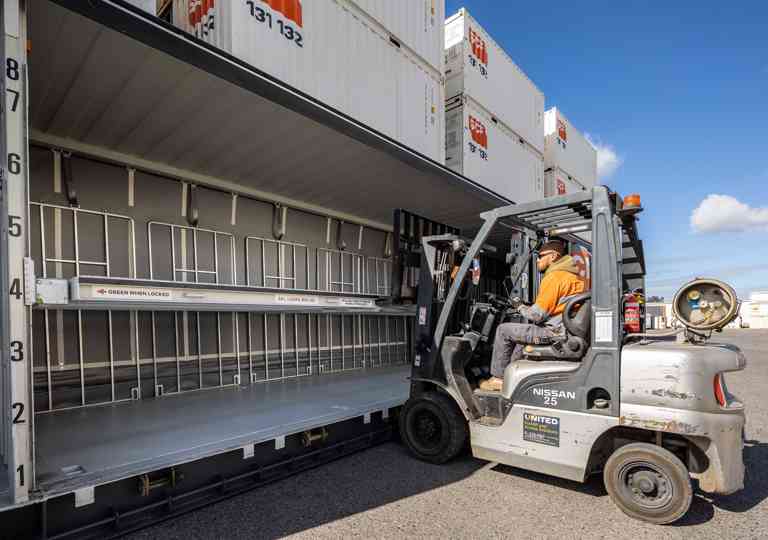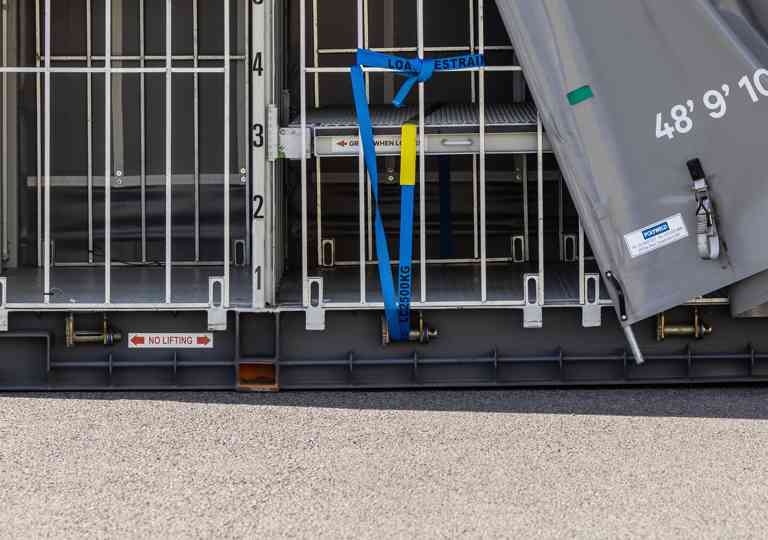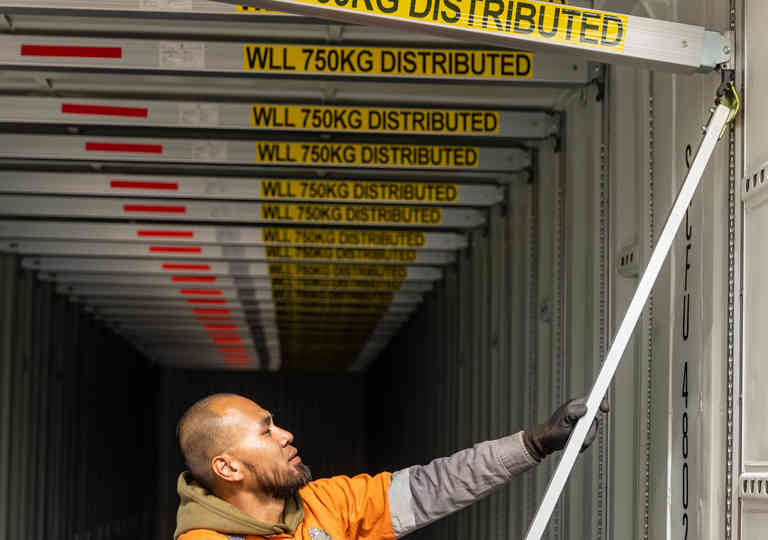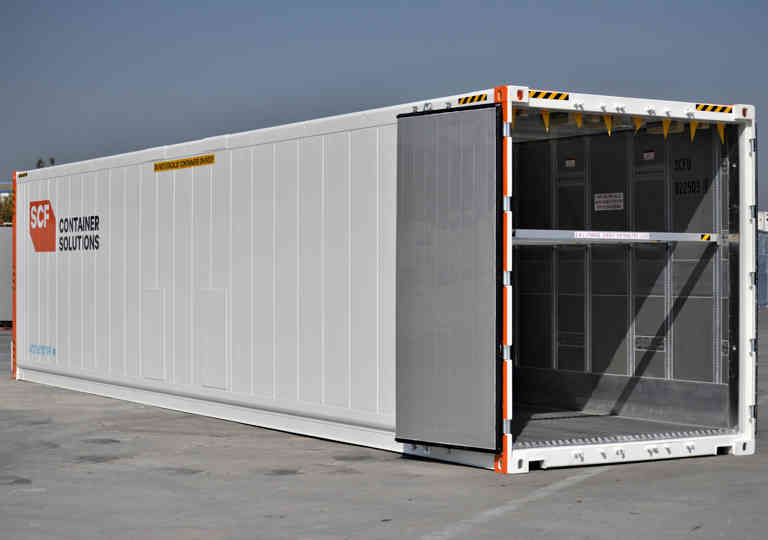 Same Same
...but different. An SCF Tautliner Container on an SCF Skel. Need a different container type? No problem...
Same Same
...but different. An SCF 40ft Pallet Wide Container on the same SCF Skel. The trailer remains constant, but the container was changed in minutes in depot. Need a different container type? No problem...
Same Same
...but different. Two SCF 20ft Side Door Containers on the same SCF Skel. The trailer continues to remain constant, and the containers were safely and quickly changed inside an SCF depot. Need a different container type? No problem...
Same Same
...but different. A 46ft Refrigerated Container sits on the same SCF Skel. Providing a much different purpose than the previous containers, which enables the operator to service a wider range of requirements more quickly, and at a lower cost.
Two Pallet Wide
All SCF intermodal containers are designed to fit two chep pallets side by side. With much of Australia's freight transported on pallets, we ensure internal space can maximise pallet storage for efficient transport.
Mezzanine Decks for Extra Storage
Many SCF side access containers (20ft double side doors and Tautliner containers) come with Mezzanine Decks that can safely and quickly be adjusted by a single fork operator. They are designed to provide a second layer of storage and protect soft pallets. When deployed correctly, they can double internal pallet storage.
Tie Down Rails to Secure Cargo
SCF's Tautliner containers come with tie down rails so all internal can be quickly, easily and safely secured for transport. This will keep pallets secure for short and long trips, and when shifted between skels and rail wagons, so your goods are not damaged in transit.
Vertical Load Bars
Similar to the Mezzanine Deck on side opening containers, Vertical Load Bars double internal pallets capacity on end door containers. Easy and safe to deploy, they are available in dry and refrigerated containers so you can utilise internal space.
Chill Out
SCF has a fleet of refrigerated containers in various sizes to enable the reliable transport of sensitive cargo. With superior thermal insulation, machinery run time is minimised so you can keep cooling costs down during transport and delays. This range also comes with a range of user and safety features, such as an internal escape hatch, luminescent decals, internal lights and alarm system.
Why Use a Container Trailer?
SCF's purpose built container trailers offer a versatile and efficient alternative to traditional trailers, addressing the challenges faced by the industry.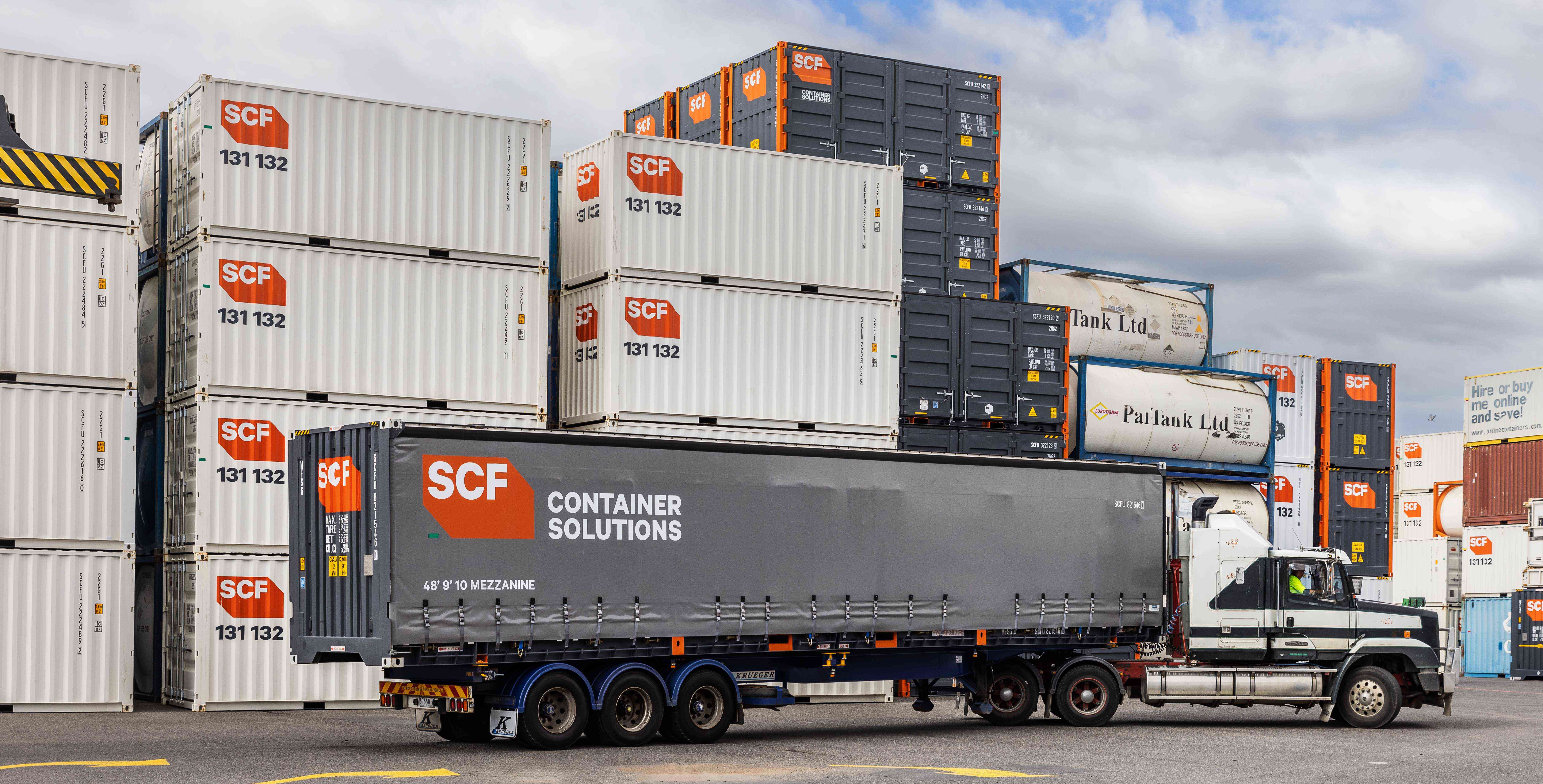 So what are the differences between intermodal containers and traditional shipping containers?
SCF Intermodal Containers

Standard Shipping Containers

All SCF intermodal containers are designed to fit two Chep pallets side by side, so you can maximise internal storage.

Standard shipping containers are too narrow to fit two Chep pallets side by side.

SCF has a range of containers in our fleet with transport specific features, such as Vertical Load Bars and Mezzanine Decks, that allow containers to be safely double stacked. Steel floor options are available for added strength.

Double stacking in a standard container has to be done onto other pallets, which is a problem if they are delicate or holding soft goods.

Designed and Built for Australia

Our containers are designed to thrive in Australia's harsh conditions. And with depots around the country, we can keep your containers on the road, not in the workshop waiting for repairs.

Built for the shipping lines and not much else. Once they are off the boat, they are at the mercy of the owner. Dents, dings and dodgy doors need to be fixed by a qualified repairer, who aren't always easy to find.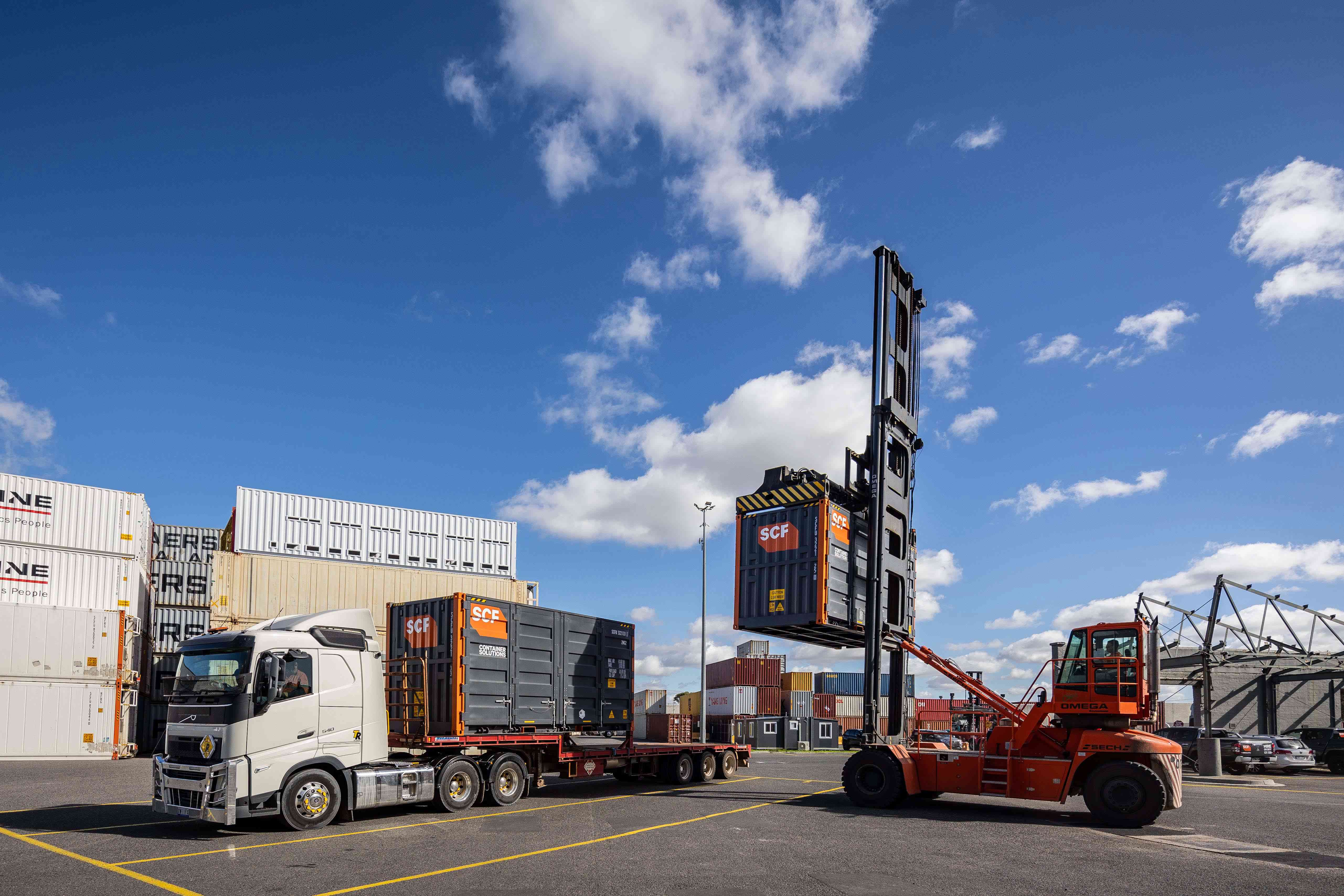 Our Footprint Extends Across Australia
With depots across the country, you can get the equipment you need quickly. And we can maintain and repair damaged containers, so your equipment spends more time out on the road and less time in the lockup waiting for a fix.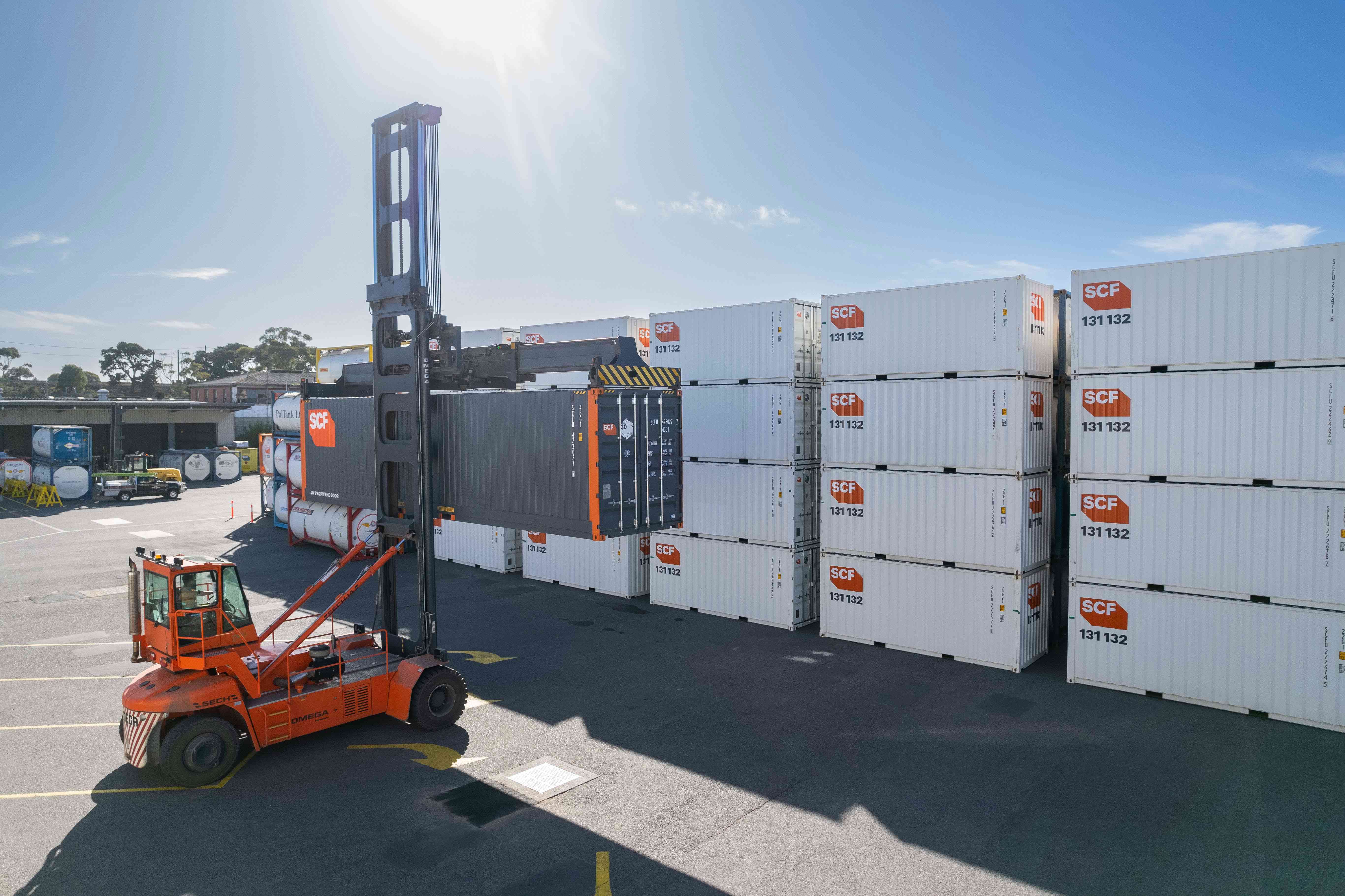 Need It Now? No Worries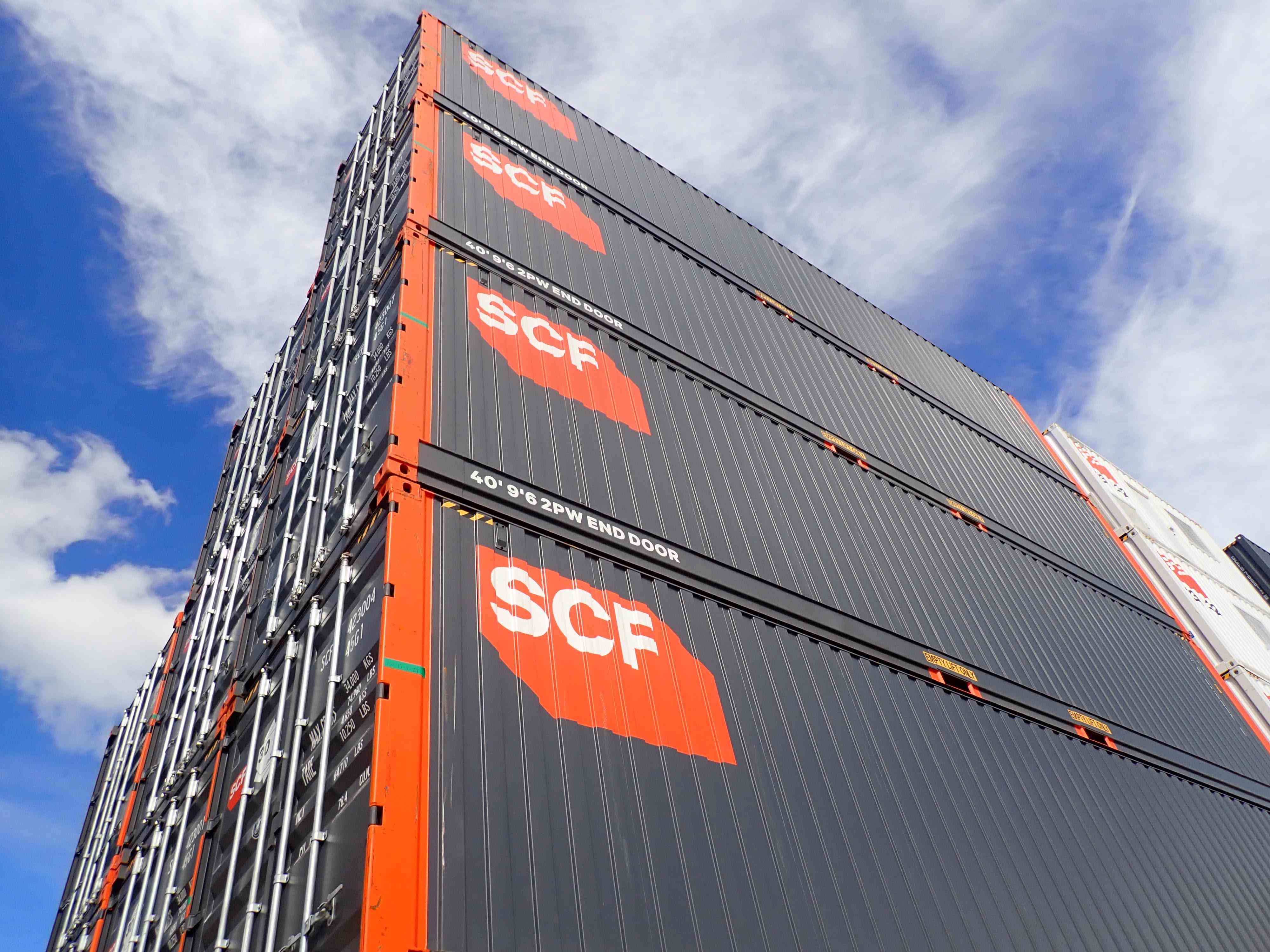 We are constantly building into our fleet of intermodal containers, which means you don't have to wait 12 months or longer for equipment. Need something next week? Once you're on board, contact your SCF representative who will prepare it for release from our closest depot to you.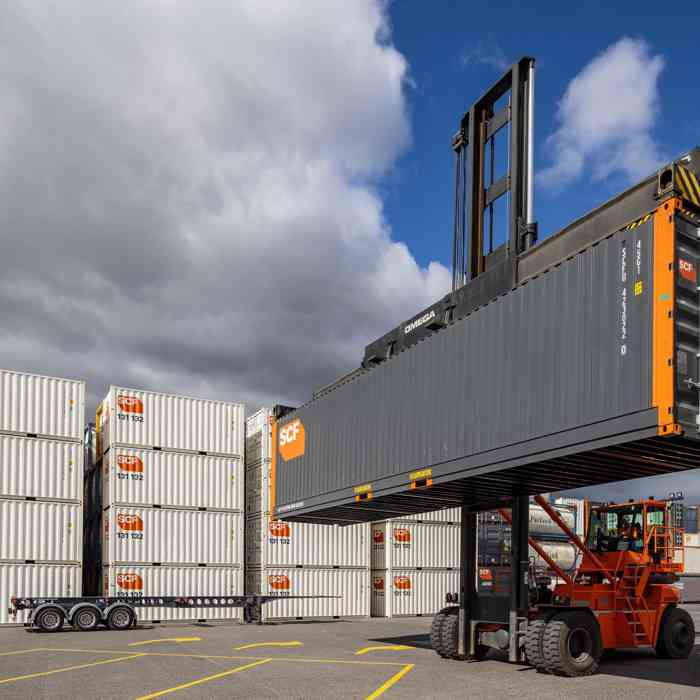 Prefer to Chat?
Our Intermodal team would be more than happy to discuss your situation over the phone. Give us a call today. 
Meet Our Intermodal Team
Our highly experienced intermodal team is spread across logistics hubs around Australia. Working closely with road and rail customers, of various sizes and in a range of industries, they are able to provide the support, guidance and solutions required to help your business move freight.