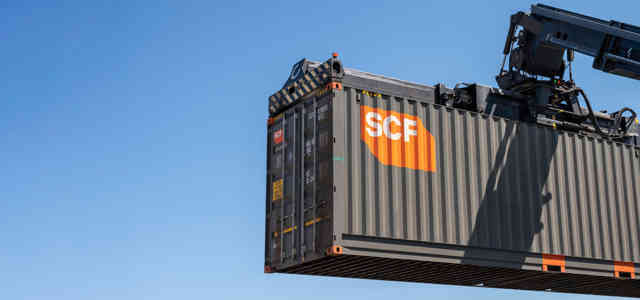 25 of the Worlds Largest Shipping Ports in 2023
For all of our ability to fly through the skies, the highest volume of cargo is still shipped by sea. It is the lifeblood of trade around the world and has been for centuries. 
COVID-19 threw a spanner in the works, certainly, and it has taken time for the ports and shipping supply lines to get back to pace, but now sea trade is back and growing even larger than before.
What Are Shipping Ports Used For?
Shipping ports, or harbours, are integral cargo hubs along the supply and distribution chains worldwide. They handle the arrival of goods, unloaded onto road or rail transport for distribution around a country. Or they are the disembarking point for large cargo vessels to sail out into the wide blue yonder, across the oceans to arrive at other ports around the world.
Shipping ports are customs and border control for imported goods and cargo. Inspection authorities oversee security measures to ensure compliance with import/export regulations, laws and international trade agreements.
Ports and harbours are also storage and warehousing hubs, often with sizeable temporary storage sheds and facilities to keep goods safe until collection.
They are arrival points for passengers on holiday, or people looking for a new life in a new country.
What Country Has The World's Largest Shipping Ports?
There are several ways to measure the 'largest world ports'. You can measure by total cargo tonnage, the number of ships that pass through, or the busiest ports as measured by the total number of twenty-foot equivalent units (TEU).
For this article, we're using the TEU designation to measure the largest ports.
Going by this method, China has four of the top five largest ports in the world, and seven of the top ten ports in the world. China is an industrial juggernaut, and its port and cargo handling absolutely reflects this.
Top 25 Largest Ports
We have compiled a list of the world's Top 25 Largest Ports. Who will take out the crown? How many containers does the largest port deal with on a daily basis? Find out below.
The World's 3 Largest Ports
The three largest ports in the world accounted for 117.95 million TEU in 2022. If these containers were laid out end to end in a straight line, they could wrap around the Earth 56 times!
In order, they are:
Port of Shanghai - China
Port of Singapore
Port on Ningbo-Zhoushan - China
---
Port #1 Port of Shanghai, China
TEU in 2022: 47.3m
Originally built in 1842, The Port of Shanghai is on the east coast of China in the Hangzhou Bay. It has the Huangpu River and Yangtze River flowing through it. 
In 2022 47.3 Million TEU passed through the Port of Shanghai's 200 berths.
The Yangshan Deep Water Port is the largest automated container port in the world and is also a part of the larger Shanghai Port.
Major Exports
Cars
Computers
Integrated circuits
Telephones
---
Port #2 Port of Singapore
TEU in 2022: 37.3m
The Port of Singapore was founded in 1819 by a British Colonial Officer, Stamford Raffles, on behalf of the British Empire.
More recently, it was the largest port in the world until 2010, when the Port of Shanghai overtook it.
It had a total volume of 37.3 million TEU in 2022, with over 130,000 vessels from 123 countries passing through during the year.
With over 200 berths, this port is central in the trade between Asia, Europe and the Americas. Its strategic significance has meant this has been a significant trading post for many centuries. The Port of Singapore has a lot of history.
The majority of ships travelling from the Pacific Ocean to the Indian Ocean pass through this port.
Major Exports
Petroleum
Chemical products
Miscellaneous manufactured article
Oil bunkers
Major Imports
Electrical machinery
Mineral fuels
Computers
Gems and precious metals
Medical apparatus
---
Port #3 Port of Ningbo-Zhoushan, China
TEU in 2022: 33.35m
China has 4 of the top 5 largest ports, and at #3 is the Ningbo-Zhoushan port. Located at the Yangtze River's mouth on the eastern shores of China, it has more than 400 berths. It faces the Port of Shanghai across the bay.
Ningbo Port was established in 738 during the Tang dynasty. In 2006, it merged with Zhoushan Port. 
In 2022 a total volume of 33.35 million TEU went through this port. It is a publicly listed port, but 76.31% is owned by the state-owned Ningboy Zhoushan Port Group Co, Ltd.
This port's largest import is Crude Oil, worth over 150 billion Yuan annually.
Major Exports
Electric cars
Manufactured goods
Textiles
Major Imports
Iron ore
Coal
Other minerals
---
Port #4 Port of Shenzhen, China
TEU in 2022: 30.04m
Unlike other ports at the top of this list, the Port of Shenzen was only built in 1980. This ties in with the foundation of the city itself, which was founded in only 1979 and has quickly grown to become a major economic hub, located close to Hong Kong.
This was the second largest port in China until the Port of Ningbo-Zoushan overtook it. It is the collective name for the ports of  Yantian, Chiwan, Dachan Bay, and Shekou, and it stretches along 260 km of China's coastline. 
The Port of Shenzhen is home to more than 40 shipping companies with shipping routes to more than 130 countries worldwide.
The total volume of cargo moved through this port in 2021 was 28.77 million TEU.
Major Exports
Mechanical and electronic products
Computer products
Mobile phones
AV equipment
Port #5 Port of Qingdao, China
TEU in 2022: 25.7m
Consisting of 4 ports - Dagang, Qianwan, Guangdong, and Dongjiakou, the Port of Qingdao is the most important port for the Western Pacific trade route in China.
25.7 Million TEU moved through this port in 2022.
The Port of Qingdao  was declared a free port in 1899, having been managed by Germany from 1893, when it occupied the area.
The port has a world-first suspended monorail system for transporting containers. It is all automated and saves energy on transportation, and is better for the environment than transporting short distances by truck. 
The main cargo types which flow through Qingdao include grains and fertilisers, steel and aluminium, and frozen food products.
---
Port #6 Port of Guangzhou Harbor, China
TEU in 2022: 24.6m
Guangzhou Port has been around since the Qin and Han Dynasties. Guanhzhou was established in 221 BC, and it is believe the port followed not long after.
It is located in the southern Chinese province of Guandong and is an important entry point for trade into Southern China. It trades with over 80 countries around the world. It was part of the original Silk Road, a network of Eurasian trade routes that were used up until the 15th century.
It has an impressive 1400 berths available, through which it moved 24.6 million TEU in 2022.
Major Exports
Tea
Silk
Copper
Iron and gold
Port #7 Port of Busan, South Korea
TEU in 2022: 22.1m
Only the second non-Chinese port so far on this list, the Port of Busan, moved 22.1m TEU in 2022. It is the largest port in South Korea and is located in the city of Busan at the mouth of the Nakdong River.
It was built in 1876 and became Korea's first international port, opening to the Japanese, before it allowed foreign trade in 1883.
Major Exports
Cars
Refined petroleum
Machinery
Vehicle parts
Major Imports
Electrical equipment
Optical and medical equipment
Iron ore
Port #8 Port of Hong Kong, S.A.R, China
TEU in 2022: 16.7m
Construction first began in 1970, with further extensions starting in 1974 (Terminal 4) and 1987 (Terminals 5, 6, 7 & 8). River Trade construction was completed in 1999.
This is a deep-water port in Victoria Harbour, situated near the South China Sea.
In 2022 16.7 million TEU moved through the port.
The port has an extensive drydock and slipway system for the repair and maintenance of various ship types.
The Port of Hong Kong imports manufactured goods and articles, chemicals and mineral fuels, and it mainly exports machinery, electronics, jewellery and clothing.
Major Exports
Machinery
Electronics
Jewellery
Clothing
Major Imports
Manufactured goods and articles
Chemicals
Mineral Fuels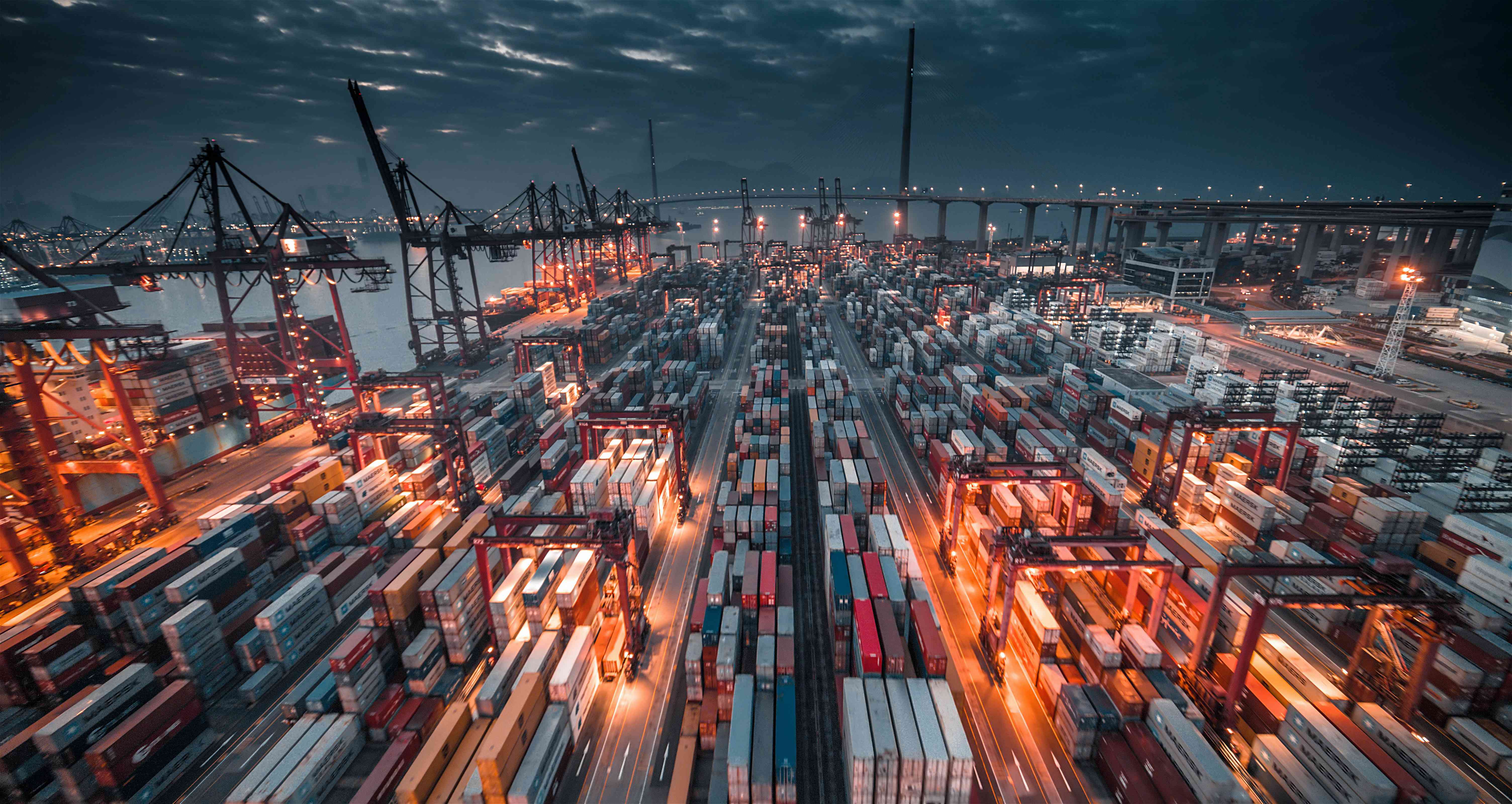 Port #9 Port of Tianjin, China
TEU in 2022: Over 21m
According to their latest press release, total container throughput was over 21 million TEU in 2022. We checked many sources, and even though the numbers seem higher than the Port of Hong Kong, Tianjin is still listed one spot below.
Located only 150 km from Beijing, it is considered the maritime gateway to the Capital of China.
Major Exports
Computer processors and controllers
Telephones
Bicycles
Major Imports
Electronics
Iron ore
Cars
Soya beans
Port #10  The Port of Rotterdam, The Netherlands
TEU in 2022: Just under 15m
The Port of Rotterdam was originally founded in 1283 as part of a fishing village. It wasn't until 1360 that the port became a major seaport after the construction a canal to the Schie.
The first port outside of Asia on the list, and it just makes it into the top 10, with just under 15 million TEU passing through in 2022. It was the biggest port in the world for over 40 years, until 2004, when it was overtaken by the Port of Singapore. 
It is one of the most vital ports for Europe, with significant impacts on the entire European economy.
It has four fully automated terminals and can accept shipping vessels twenty-four hours a day.
It is an all-round port for the import and export of agricultural goods.
Major Exports
Refined petroleum
Computer and photo lab equipment
Agricultural cargo
Port #11 Port Jebel Ali, Dubai, United Arab Emirates
Opened in 1979, this port is the largest in the Middle-east and is also the world's largest artificial harbour. Located 35km southwest of Dubai in the Persian Gulf, it moved 13.74 million TEU in 2021.
It is a deep-water port and often is visited by US Naval vessels.
There are current expansion plans to increase the size of the port by seven times, making it the world's largest container port, surpassing Shanghai.
Crude and refined petroleum make up a large percentage of imports and exports.
Port #12 Port Klang, Malaysia
With a large 13.72 million TEUs in cargo containers moving through this port, this brings Port Klang to the 12th position on this list.
The largest port in Southeast Asia, it is located on the crossroads of Asian, European and Middle Eastern shipping routes and is a bustling port.
Exports include timber, automobiles, palm and coconut oil.
Imports include fruits and grains, machinery and steel coils.
Port #13 Port Xiamen, China
A deep-water port located on Xiamen Island, in 2021 it handled 12.05 million TEU of cargo. This port sits just to the west of Taiwan.
This port is a significant coal facility. In 2018 the port handled more than 10 million tonnes of coal.
China placed restrictions on coal imports from Australia in 2019, putting the port into a 'coal drought'.
Port #14 The Port of Antwerp, Belgium
Europe's second largest port after Rotterdam, 12.02 million TEUs passed through in 2021. 
The Antwerp port handles dry bulk carriers and oil tankers alike.
The docks are highly connected to the rest of Europe through rail networks, roads and canals, making cargo transport easy.
Major exports through the port include cars, refined petroleum, and packaged medical supplies.
Imports include machinery and equipment, pharmaceuticals and foodstuffs.
Port #15 The Port of Kaohsiung, Taiwan
Located on the southwestern coast of Taiwan, it is one of the largest container-handling facilities in the world. This port handles upwards of 9.8 million TEU annually.
As well as being a vital economic hub for Taiwan, it is a very important fishing port.
It is the principal port for Taiwan, so imports are everything- machinery, leather goods, miscellaneous manufactured items, of course.
Exports include electronics, basic metals, plastics and rubber.
Port #16 The Port of Tanjung Pelepas, Malaysia
Fourteen berths, and an ability to handle 12.5 million TEU annually, make this Malaysia's busiest port. It is on the mouth of the Pulai River, just north of Singapore.
Container ships make up 63% of the traffic to this port. However, Oil and Chemical tankers and crude oil tankers also visit regularly.
Port #17 The Port of Los Angeles, U.S.A
This is the first Port from the USA to make the big list. The Port of Los Angeles is in San Pedro Bay in Southern California and is the busiest port in the US. It handles over 9 million TEUs a year.
It is a leader in developing environmentally sustainable work operations using eclectic and hybrid vehicles.
The Port of Los Angeles accounts for around 20% of all cargo that comes into the USA.
Major imports include automotive parts, furniture, footwear and apparel.
Port #18 The Port of Long Beach, U.S.A.
This port sits adjoined to the Port of Los Angeles but is a separate entity. It moved 9.14 million TEU in 2022.
Over $180 billion of cargo and goods move through Long Beach annually. 
Imports include clothing and food, toys, furniture and consumer electronics.
Exports include bulk petroleum, chemicals, cotton and rubber products, waste paper, scrap metal and food.
Port #19 New York-New Jersey, U.S.A.
Nine million TEU passed through the busiest port on the USA East Coast, and the second-busiest in the USA, behind the Los Angeles Port. This is the gateway port to the most concentrated consumer market in the world.
The port lies in the New York Harbour, one of the world's largest natural harbours. There are four main container terminals that can service post-Panamax ships, benefitting from the expansion of the Panama Canal.
Bulk cargo in containers come through this port, and so too petroleum and scrap metal.
Top imports include - Petroleum, Vehicles, appliances and electronics.
Port #20 The Port of Laem Chabang, Thailand
8.34 Million TEU passed through the Port of Laem Chabang in 2021, placing this port into position 19 on our list.
It is located 130 kilometres south of the capital city of Bangkok. It is currently undergoing its third stage of development, increasing size and potential capacity, so look for it to head up this list in the future.
It is a deep port, able to handle the largest vessels on the seas- Post-Panamax.
Most of the international shipping that comes into Thailand goes through Laem Chabang.
Port #21 Port of Hamburg, Germany
This is the largest port in Germany and the largest rail port in Europe. It feeds a lot of cargo into the inner realms of Europe daily.
8.7 Million TEU passed through the Port of Hamburg in 2021. 
It is located on the River Elbe, 110 km from the mouth of the river, and the North Sea.
An interesting fact, this port was founded way back in 1189. It enabled Hamburg to be a leading trade city with a rich history.
Port #22 The Port of Saigon, Vietnam
This is the singular name for a series of ports in Ho Chi Minh City, Vietnam. It is the main port of Vietnam and is capable of berthing post-Panamax ships.  In 2021 9.2 million TEU passed through this port.
It is a vital economic hub for Vietnam, accounting for more than two-thirds of the country's economy. Some of the main exports through this port include cereals and shrimp.
Port #23 Port of Colombo, Sri Lanka
This is the busiest port in Sri Lanka, and the busiest port in the Indian Ocean, with 7.3 million TEU passing through in 2021. It is one of the biggest artificial harbours in the world and handles most of Sri Lanka's foreign trade and cargo.
The Port of Colombo handles a lot of industrial goods, such as chemicals, glass, textiles and leather goods.
It is home to South Asia's second tallest building and is the centre of many commercial business interests and banks.
Port #24 The Port of Taicang, China
Taican is a natural harbour and port in the Jiangsu Province, The Yangtze River is to the north, and the East China Sea is off to the East. It ran 7.04 million TEU through its facility in 2021.
The port has container terminals, a dry bulk cargo section and a petrochemical section.
Port #25 The Port of Valencia, Spain
The Port of Valencia is the fifth busiest seaport in Europe, and the busiest port in the Mediterranean, with a capacity of 5.6 million TEU in 2021.
The main imports and exports which pass through this port include textiles and footwear, grain and fodder, motor vehicles and consumer goods.
There is also an increasing amount of Mediterranean cruise traffic passing through the port.
Read our latest blog on the largest container ships
This list is constantly changing, with ports undergoing expansion and growing, and leapfrogging their way up the list. It suggests that the shipping industry has recovered from the initial impact of COVID, and is growing in response to increased customer demand.
Want to learn about the largest ships that regularly visit these ports? You can read about the world's biggest shipping container ships. 
If you're looking to hire or buy a shipping container for secure on-site storage, or to convert into an entertaining area, send us an email, or call us today.
Share:
Subscribe & stay informed
Receive the latest in products, trends, news, events and tips.