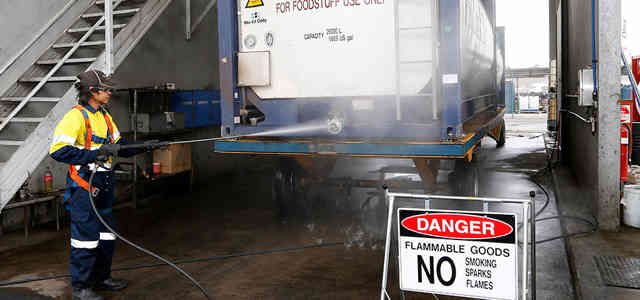 Tank Services & Maintenance
Tank Services in Australia
SCF provides a range of highly specialised tank services across both our Brisbane and Melbourne depots for existing and new tank container customers. Supported by an experienced team, with built for purpose tank infrastructure, we are able to service tanks and keep them operational for longer.
ISO Tank Washing
SCF has dedicated tank washing facilities in depot to clean, maintain and prepare ISO tanks for ongoing use.
Customers with tanks on hire utilise these facilities to increase the time tanks spend in the field. This is important where new cargo needs to be stored or transported in a sterile vessel.
Our tank cleaning team, qualified to operate in confined space, work in our EPA approved facility that is designed to clean tanks efficiently and safely. 
The service is also available for pre-existing tank owners.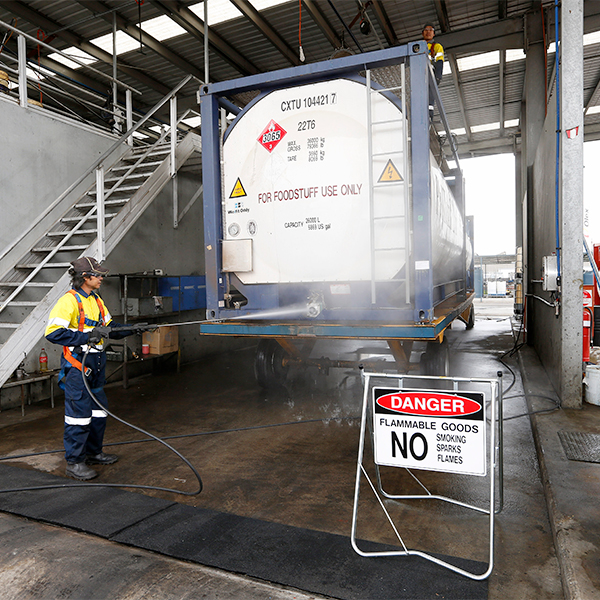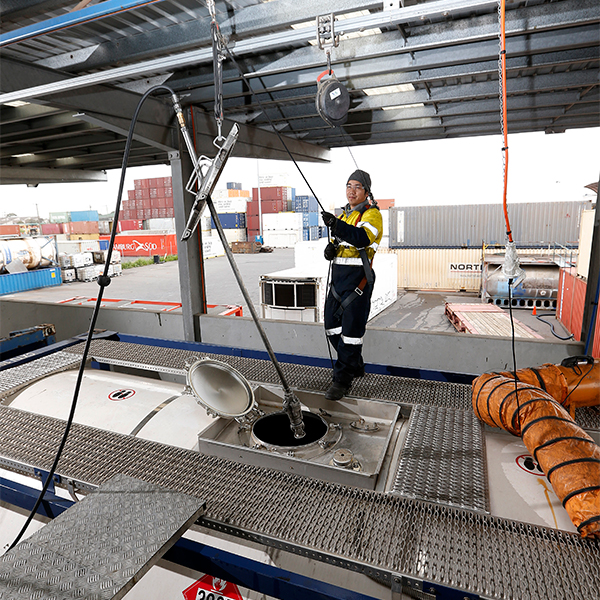 Modifications, Repairs and Full Refurbishments
ISO Tanks are designed to withstand all sorts of harsh conditions, from cold wet winters, to scorching hot summers. Through their daily use, they can experience all types of damage, such as cosmetic scratches and dings, to worn out seals, valves and gaskets, or structural damage (from constant loading and unloading from trucks and trains). 
Our team of tank specialists are trained to undertake all forms of maintenance and repairs to ensure tanks perform consistently. As SCF is one of the few tank manufacturers in Australia, our team has access to original drawings and specs, which means repairs and maintenance can be undertaken efficiently, to the point where each tank is like new. Our advanced safety and operational features can also be maintained should they need to be repaired.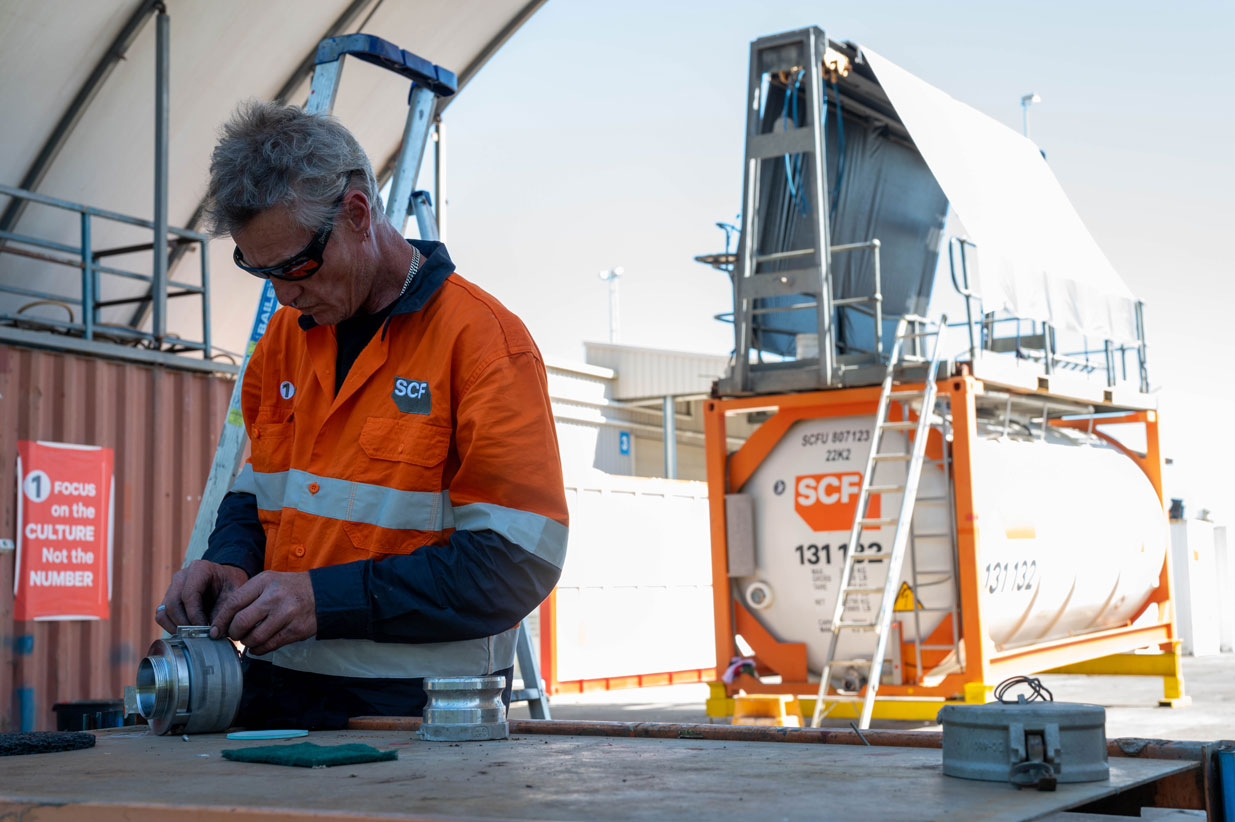 SCF depots are equipped to store full and empty ISO tanks (depending on cargo). For organisations that have limited storage space, but a significant fleet of tanks that spend most of their time on the job, tank storage can be difficult to find. Let SCF take the pressure off. With short and long-term storage options available, you can spend more time focused on business opportunities. 
Tank Testing
Each new SCF tank undergoes hydrostatic testing in factory before it is shipped to Australia. 
After 2.5 years and 5 years, a tank must undergo testing, to be approved for the carriage of hazardous goods. SCF can conduct the necessary testing in depot, so your tanks can remain certified. 
Decanting product into IBC's and disposal
SCF has the facilities to transfer tank contents into IBC's.  This can be helpful when you need to go from bulk storage to a smaller storage solution. No longer need the contents? We can also dispose of it within the correct environmental rules and regulations.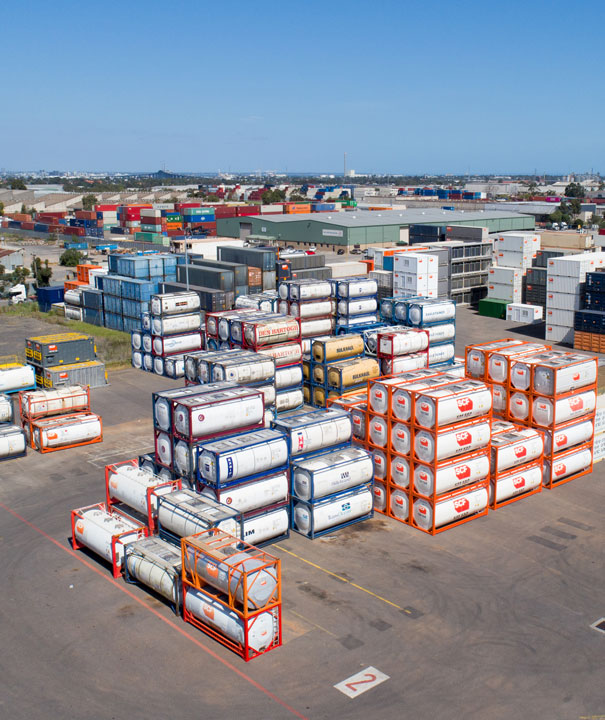 SCF Depot's endeavour to provide a quality service to all of our clients as part of our commitment to achieving the highest level of customer satisfaction in everything we do.
SCF provides a structured framework for effective health, safety and environmental practices and performance across all of SCF's activities and operations.
In all of our activities, we commit to:
Compliance with relevant statutory obligations, standards, specifications and codes of practice
Produce and supply clients with services that are fit for their intended purpose and conform to the relevant and previously agreed specifications or contractual requirements;
SCF Waste Water Treatment Plant (WWTP) facilities, which deals with the trade waste generated from the washing & cleaning of the ISO tanks, achieve constant compliance with the trade waste discharge Standards
All washing of ISO tanks is undertaken in a roofed and bunded area ensuring all stormwater is diverted away from the wash bays and thus uncontaminated. Oil waste generated as part of the first wash of the ISO tanks as well as any product or waste remaining in the ISO tanks when delivered to site is segregated and stored in IBC's, which is then collected by an EPA licenced waste contractor and taken off-site for recycling.
Where possible treated recycled water or collected rainwater is utilised for the washing of the ISO tanks. The WWTP has been designed to minimise chemical and electricity consumption, waste generation and to allow as much water reuse and recycling as possible.
Tank Experience
With a combined team experience of over 50+ years, our highly trained staff have dedication and discipline in servicing the needs of our customers. Specialising in all aspects of ISO tank containers maintenance and service including surveying, testing, tank cleaning, repairs, modifications, storage, and ISO tank container sales.
Learn more about how SCF can help service your tank fleet. Contact us on email or call 131 132