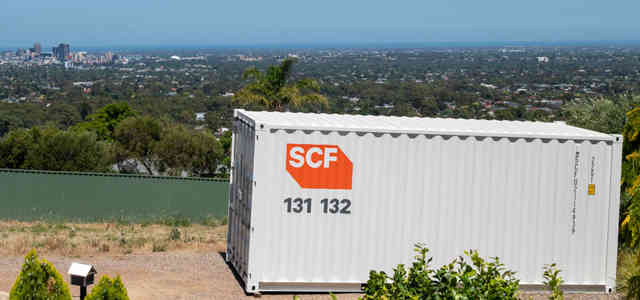 SCF Shipping Containers
Shipping containers were originally designed to transport goods across the open ocean on ships. They are lightweight, strong, weatherproof and stackable. They quickly became very popular for furniture removalists, who could transport furniture safely between two locations on the back of a truck. And now they are commonly used for onsite storage, in commercial, industrial and residential settings. 
A range of size variants have been introduced over time, to include smaller 8ft & 10ft mini containers, 20ft high cube containers (which were 1ft higher than a standard 20ft shipping container), larger 40ft high cubes, 20ft side opening containers to enable easier access and the traditional 20ft shipping containers and 40ft shipping containers.
Part of their popularity comes down to affordability - if buying is too expensive, they can be hired for a small daily fee. 
SCF's range of shipping containers are made from Weathering Carbon Steel to provide maximum protection from harsh weather conditions and vermin, whilst also maintaining structural integrity for many years.
These containers represent a cost-effective solution for short or long-term storage of furniture, auto parts, tools & equipment or excess stock.
Containers are quick and easy to deploy, so you don't have to wait for processes commonly associated with building or extensions. Also, check out SCF's shipping containers buying guide & our complete list of shipping container dimensions to find out everything you need to know before you hire or buy.
Show More
Show Less