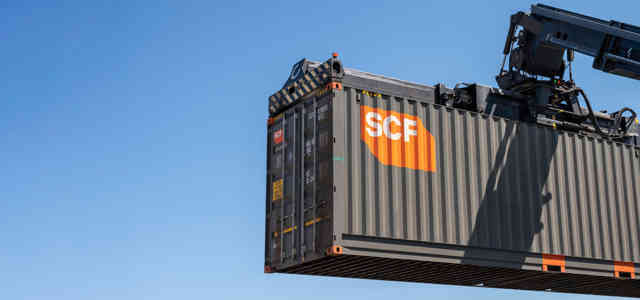 What is a Reefer Container?
A reefer container is a type of shipping container that maintains a regulated cool temperature through a mix of insulation and powered cooling, to carry temperature-sensitive products. Essentially serving as a large refrigerator, reefer containers typically sustain a temperature range of  -25°C and +30°C. From transporting fresh produce to playing a vital role in disaster management, there are many uses for a cold storage container.
This guide will cover everything from how refrigerated containers work to what can be stored in them. On top of that, it will address how much reefer containers cost and the different sizes available at SCF.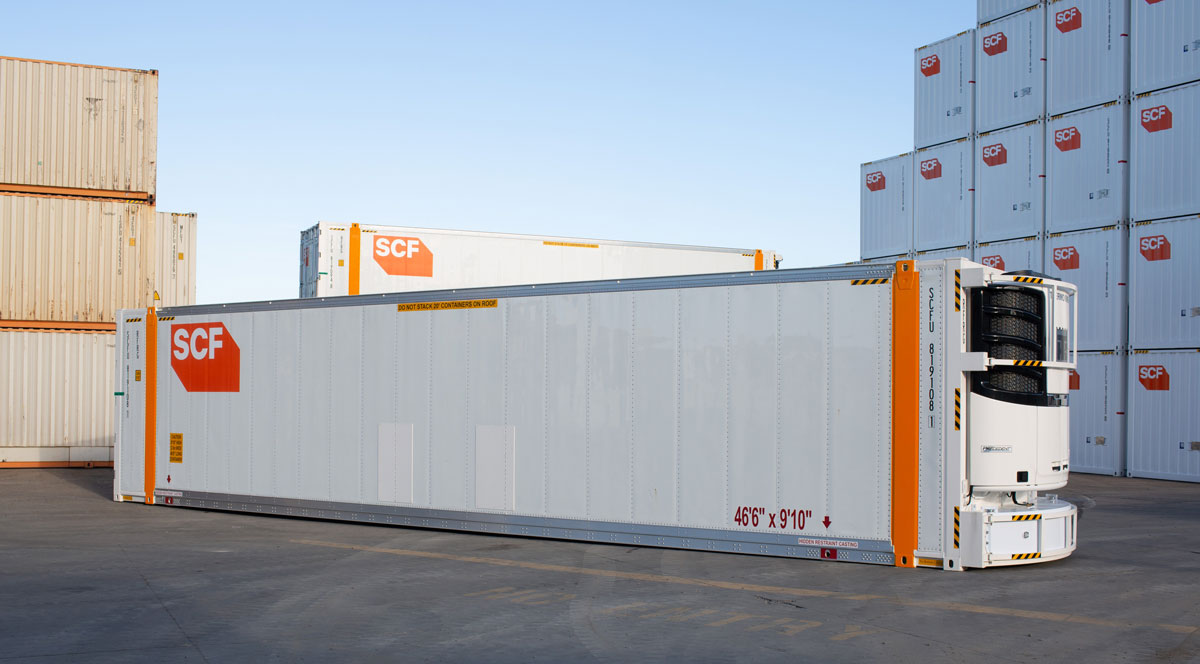 Where and when did the name Reefer Container come about?
The name 'reefer container' is short for 'refrigerated shipping container'. Refrigerated shipping is believed to have begun in the early 1800s. Before this, cargo that could potentially spoil was only shipped to nearby locations.
Initially, refrigerated holding bays on ships represented a solution to maintaining the integrity of temperature sensitive cargo. However, refrigerated containers as we know them today became commonplace on ships by the early 1960s. Whilst their power generation has changed from propane fuel to diesel or electric, their motors continue to sit at one end of the container and cool the internals.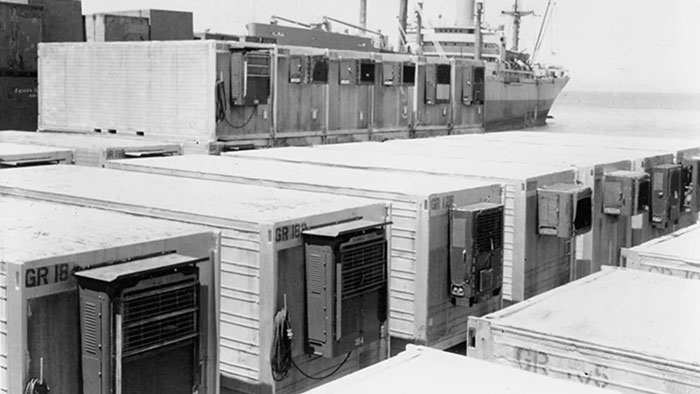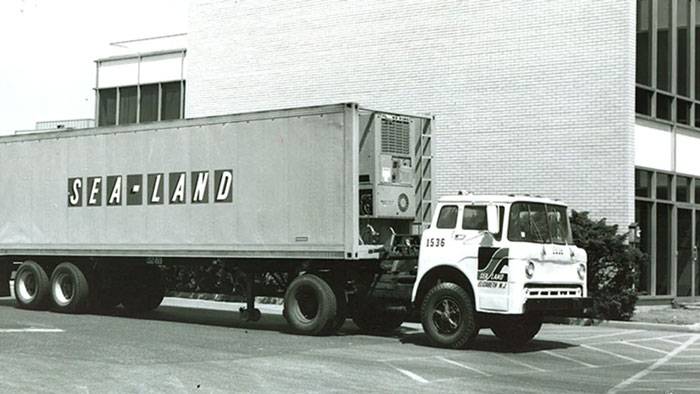 Reefer containers continue to be improved on with innovations occurring to this day. Safety is something that has driven a lot of this innovation, from internal releases, alarms, glow in the dark decals and lighting, to ensure users cannot get stuck in one.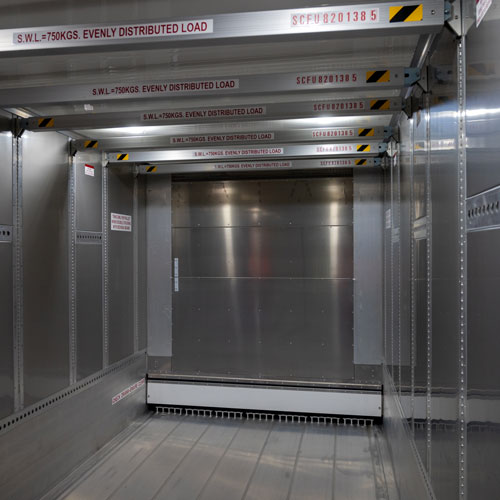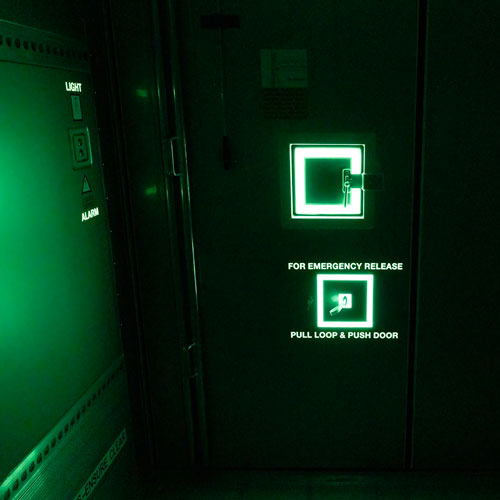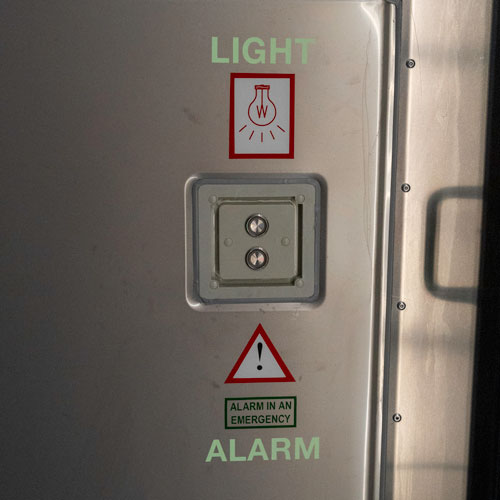 How do Reefer Shipping Containers Work?
If you've ever wondered, "how do refrigerated shipping containers work?", you should know that there are several factors to consider. 
A reefer's cool temperature is maintained through the refrigeration unit, which distributes chilled air via the container's floor. Most reefers feature T-shaped decking, which enables the supply of cool air to travel around the cargo. It's important to note that a refrigerated shipping container can't lower the temperature of goods. Instead, it maintains the ideal temperature for the products, which means you'll be required to pre-cool the cargo before loading it on the reefer.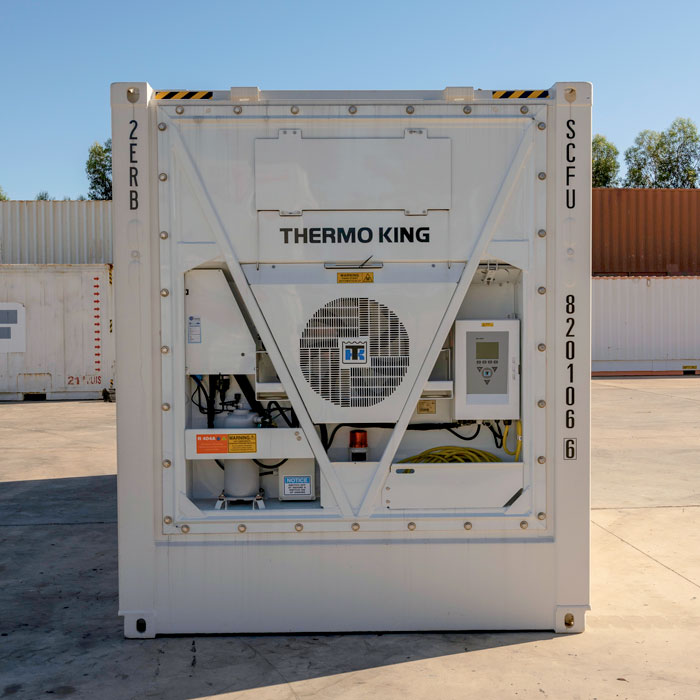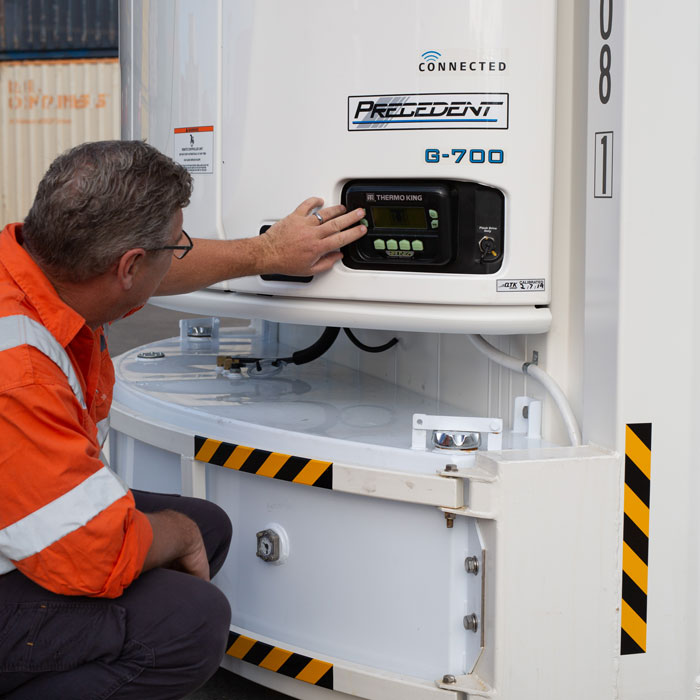 Ventilation is a crucial component of maintaining a reefer's temperature and keeping goods fresh. For that reason, boxes used to store cargo on the container should have ventilation. Furthermore, there should be no gaping spaces between products and the reefer's walls. 
In addition to the refrigerated unit, which sits at the front of the container, reefers are equipped with insulation between the internal and external walls. The quality of insulation, and the thickness between the walls determines the efficiency of cooling inside. SCF's proprietary design uses a self extinguishing foam for increased safety that is also proven to perform for extended periods of time in Australia's harsh summers. More advanced insulation also means reduced run time for the refrigeration unit, which reduces the ongoing cost of machine operation.
Meanwhile, some reefer containers include a cooling system that uses water to help maintain the desired temperature. These reefers also feature a drainage system that works to prevent water accumulation. 
Electric Reefers
Electric units are most commonly used for static storage, at warehouses, events or other locations where there is access to power. In some instances electric units will be used to transport goods, but between destinations the cooling motor is not active, so the unit relies on insulation to maintain internal temperature.
Diesel Reefers
Diesel reefers are commonly used for transport, especially in Australia due to the distance regularly traveled between major cities, either by truck or train. They're fuelled by a diesel powered generator set (genset) that provides electricity to the unit. When delayed, the motors can be refilled at trainyards, truck stops or logistics hubs with ease.
What can be stored in a Reefer or Cold Storage Container?
Essentially, anything that you'd find in the supermarket's fresh fruit and vegetable or frozen section can be stored in a reefer container.
This includes perishable food items like fruits and vegetables, milk and dairy products, seafood and meat that must be chilled or frozen. Beyond frozen food, other items commonly stored in reefers include alcoholic beverages like wine, medicines, or even fresh-cut flowers. Usually these goods are loaded on pallets, which is why most reefers are designed to fit two pallets side by side. Models with Vertical Load Bars can also safely double stack pallets, effectively doubling internal storage capacity.
What is a Reefer Container used for?
#1 Transporting Perishable Food
If you ask anyone, "what is a reefer container used for?", most people would associate it with transporting perishable food. As it stands, this is by far the most popular use for a reefer. Reefers play an integral role in the worldwide trade of food, including but not limited to vegetables and fruit, meat and dairy products, and seafood. It increases the availability of out of season food, which is in strong demand across the developed world. Many of these products can be transported around the globe by sea using the reefer. Reefer containers are also regularly used to transport products locally, from dairy items like milk and cheese, to fruit like bananas which are primarily grown in Queensland but are a staple of the Australian diet (for most). 
Preserving and Transporting Film Set Props 
One of the most interesting uses for a reefer is the transportation and preservation of film set props. Given that production equipment and props can cost millions of dollars, they must be protected from the elements while being moved from place to place. Reefers are especially useful when shooting in extreme weather conditions and harsh environments.
Disaster Management 
Reefer containers can play a pivotal role in helping a community overcome a natural disaster like a flood or bushfire. If supermarkets or pharmacies have been destroyed in a fire, reefers provide a safe, temperature-controlled environment to store goods and prevent food wastage. On top of that, reefers can serve as temporary shelters with insulation that reduces significant fluctuations in temperature, although they would need to be disconnected from a power source so that they are at average room temperature.
What is the cost to hire or buy a reefer container 
The cost to hire or buy a reefer container is dependent on a number of factors. The size of the container, its specifications and key features all help determine our prices. It's safe to say that our prices reflect the high quality and longevity of our reefers. 
Hiring a reefer will also require you to pay for the minimum hire period of 31 days and all transport charges. From there, monthly invoices will be sent for rental periods longer than one month. 
Unlike more traditional containers, such as 20ft and 40ft dry containers, Reefers are less common, and consequently difficult to provide cost estimates.
For a more detailed cost assessment, check out our quick and easy Get a Quote form online today.
Yes, our expert team at SCF can do shipping container modifications on a range of models, including reefers. There's no point in purchasing a reefer container if it isn't perfectly suited to your individual storage needs, which is why we offer customisations and supply the extras to boot. Some of our most common reefer container modification requests include custom external paint colour and branding, additional side doors and ramps. 
In addition, we can add accessories like locks or further storage solutions like cabinets and shelving. Whether you know exactly which modifications you're after or need help deciding, our sales team will be happy to discuss creating the best reefer for you.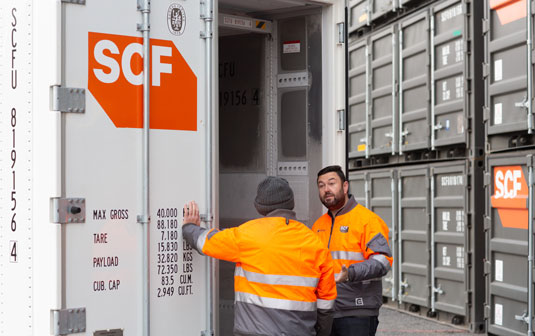 Reach out to SCF for all your Reefer Shipping Container needs
If you're in the market for a refrigerated container, you can consider SCF your one-stop shop. We have shipping container depots in locations all across the country, guaranteeing you'll find your ideal reefer no matter where you're based. Contact our dedicated team today if you have any questions about which reefer size is right for your situation. If you'd prefer to chat with one of our friendly team members over the phone, request a callback at a time that's convenient for you. 
Share:
Subscribe & stay informed
Receive the latest in products, trends, news, events and tips.