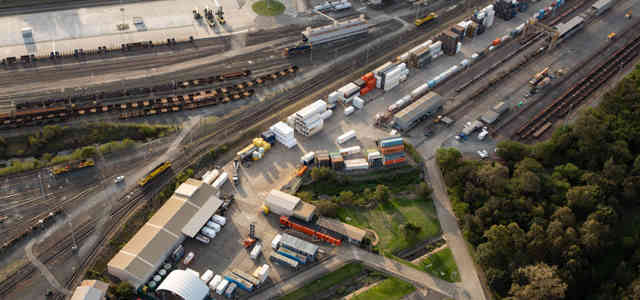 Brisbane Shipping Containers
Brisbane Shipping Containers Our Depot
24 Industrial Ave
Wacol, QLD 4076
Monday - Friday:
8am - 4pm
Brisbane Container Depot
Our Brisbane container depot is one of our largest in Australia. Located in South-West of Brisbane City, with close proximity to Wacol train station and Ipswich Motorway.
As a major transport and logistics hub, much of our intermodal fleet is located here, along with refrigerated containers, Site Sheds and ISO Tanks. It also stocks a large range of our portable onsite storage containers, from 8ft, all the way up to 40ft containers.
At a Glance
Located near major rail and arterial roads, our Brisbane Container depot services all of Queensland, from the Gold Coast, all the way up to the north of the state. We even supply to inland projects, at sites like Roma. 
The depot has 2,000 TEU capacity, with 20,000m2 of concrete hardstand. 
It is well serviced with a dedicated wash facility and workshop for ongoing maintenance and repairs to our fleet.
Capabilities of Our Brisbane Depot
SCF's Brisbane container depot is staffed by a team with a combined experience of over 40 years, which includes key depot staff and a range of trades.
We complete all maintenance, repairs and modifications onsite. This includes tank repairs, which are completed to ITCO and IICL standards.
SCF also has accredited IICL assessors onsite.
Our skilled team of trades include:
Metal trades 
Carpenter/Joiner
Plumber
Container wash
Container survey
Forklift/Reach Stacker operators
Take a Look Around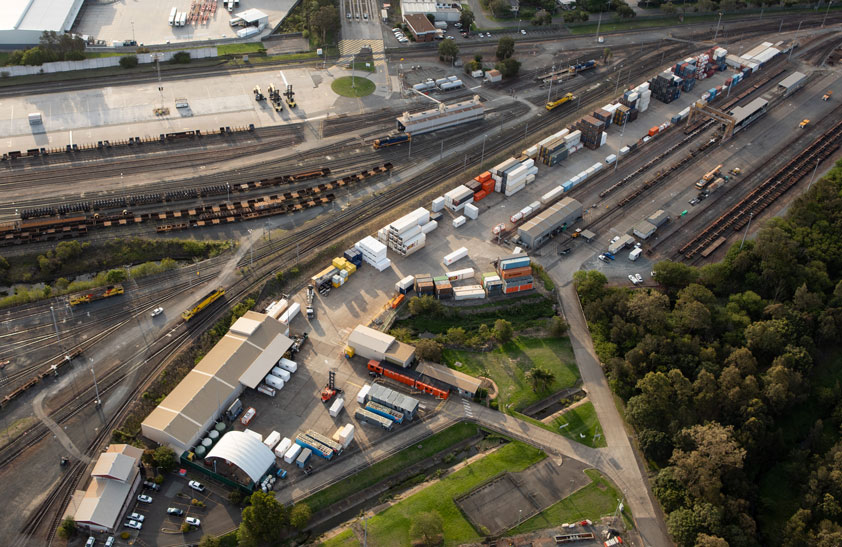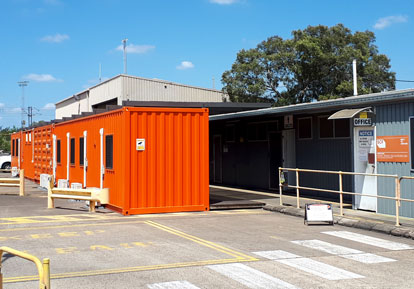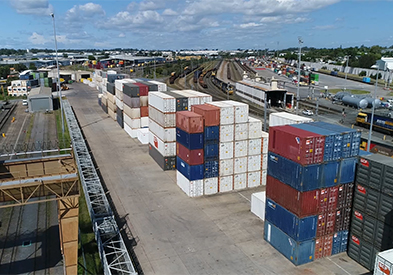 Services Available
Our team of container specialists offer the following services in depot:
Repairs to CIC or IICL standard
Modifications – simple to complex, dry and tanks
ISO tank washing and testing up to 160 tanks per month
Wash bay, trade waste approved by Urban Utilities and Brisbane City Council
Types of Containers Available
Subject to stock levels, our complete range of containers are available from our Brisbane depot.
The most commonly stocked container types are general purpose and high cube shipping containers, including:
---
Our Brisbane Container Depot Also Stocks
Shipping Containers for Sale in Brisbane
SCF's Brisbane depot has the largest selection of shipping containers for sale in Brisbane. As a major logistics and freight hub, our Brisbane depot holds a large portion of our new build containers, which are delivered straight from factory.
Our hire fleet that comes off contract is also returned to depot and becomes available as used stock. Often these used containers represent the best value for money when purchasing. They remain wind and watertight, yet are significantly cheaper than new units. Read our Container Grade guide to get a better understanding of the condition of used containers.
In addition to the ample supply of containers in Brisbane, larger blocks make it much easier to store containers onsite, compared to other states, where space is at a premium.
For large blocks, 20ft and 40ft containers can be purchased. They will store anything from extra furniture, garden equipment, your family history, to car and bike parts, more family members or fixtures as part of a renovation. In addition to short or long-term storage, they can be used as a shed alternative, detached office or workshop.
For those that live on smaller or space constrained sites, we can supply 8ft and 10ft containers. Smaller containers are also a popular choice on sites where access is limited or tricky. They are commonly seen in inner city suburbs. 
One key advantage to buying a shipping container is your ability to customise it, such as the external paint colour, internal shelves or more. This can be done in SCF's Coopers Plains depot before your container is dispatched, or you can undertake the work in your own time if you're handy, or enjoy a weekend project.
Sites with easy access tend to be the most popular for container sales. If you see them on a driveway, chances are they have been hired. 
Shipping Containers for Hire in Brisbane
Shipping container hire in Brisbane is really popular because it is often much cheaper than buying. Many customers also do not need them for a long time (think many years).
Brisbane is full of shipping containers. With a steady stream of containers coming through the Port every year, there are plenty of containers to hire. Due to this supply, the cost of hiring a container in Brisbane is quite low, as in, cheaper than a coffee a day.
So why would you hire a container in Brisbane? It depends on the end use. Short to mid-term activities, like home renovations are a common reason, or a business might hire them to store archives until they move into a new facility or can shift the files into permanent storage. It can also be used to store old equipment or furniture, car parts, tools and stuff that belongs in a shed. 
The best thing about hiring a container is that you have access to the newest units in the fleet, which often come with more features designed to make it easier and safer to use. For storage containers, this might include a lockbox to discourage dirty thieves. On a Dangerous Goods Container, this might be a larger bund.
Meet Our Team

Danny Harris
Depot Manager

David Thomson
Depot Supervisor

Sam Duff
Business Development Manager

Michael Lowe
Business Development Manager - Tank Containers

Ben Burgess
Business Development Manager - Intermodal