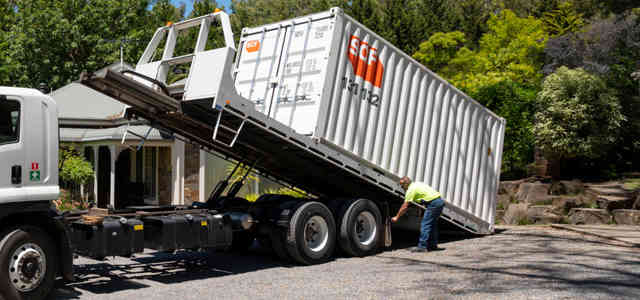 Shipping Container Hire
It's more affordable than you think...
SCROLL
High quality shipping containers for hire
When it comes to shipping containers, people often consider the purchase price before anything else. This can often be quite large and off putting, especially if you aren't familiar with the cost of shipping containers.
However hire is often a much more affordable option for everyone, from mums and dads, to small business and community groups. 
Not only is the cost more appealing, there are a range of other advantages that you get from hiring a container that just isn't possible if you buy. 
So rather than save up all your money and wait to buy a container, you can get hiring from early as this week so less than the price of a coffee per day.
Did you know you can hire shipping containers?
You can hire a container for less than the cost of a coffee per day.
Many people think that you can only buy a shipping container. Depending on the type of container, it could set you back anywhere from $4,700+GST or more.
But hiring is a much more affordable, and often times, more appropriate option.
Read up on our Should I Hire or Buy a Shipping Container guide for all the information.
4 Advantages of hiring shipping containers
There are many advantages to hiring a shipping container, and cost isn't the only one!
1. More flexibility
Many organisations need a more flexible solution when it comes to buying shipping containers. If you need a temporary storage container, a short-term transport solution, or need to frequently change storage capacity, then it makes more sense to rent a container for the period that suits you (31-day minimum).
2. Manage your money/budget
Renting a shipping container is more budget & cash-flow friendly, and short-term shipping container rentals are tax deductible if categorised as an operating cost.
3. There when you need it
Renting a container means it is there only when you need it; great for seasonal businesses and periods you may need more storage space than others.
Our high-quality containers offer protection against the elements. All containers for hire are waterproof, windproof & impervious to pests & vermin, and extra security options such as lock boxes are available.
4. Access to new stock
Our new build containers make up much of our hire fleet. So you have access to better paint jobs, more features and less superficial marks.
How long can I hire a container for?
You can hire a shipping container until the end of time.
Most containers will come with a minimum hire term, which starts at 31 days.
The good thing about hire is that you can easily extend your hire term if you need the container for longer. Our casual hire rates mean you call us when you are ready to return the container and we will get pick up organised.
If you know you will need it for a long time, you can let us know and we are able to provide a more competitive daily hire price.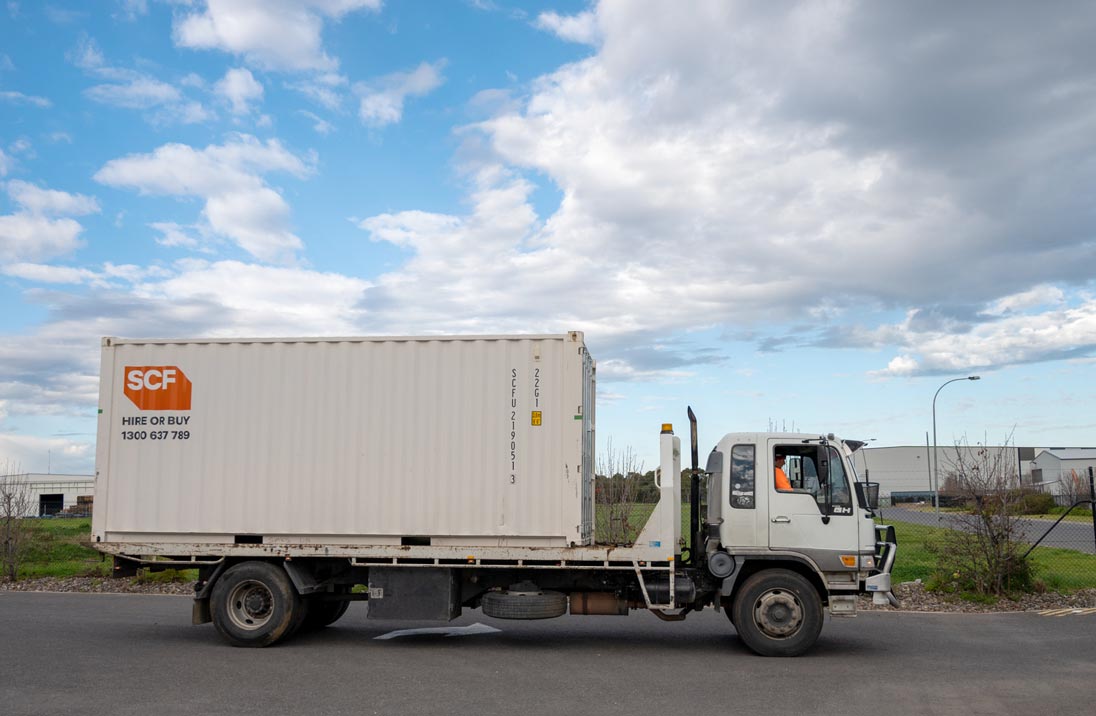 Discover our range of shipping containers for hire
We had a wide range of onsite storage containers available, including 10ft, 20ft and 40ft containers. 
10ft Shipping Container
10ft shipping containers, also referred to as mini shipping containers, are the ideal storage solution when space is limited within our range of shipping containers. These smaller units are commonly used for the safe onsite storage of furniture, equipment, parts and accessories.
They represent a perfect alternative to a garden shed or garage. They are also the ideal storage solution for a range of items including but not limited to furniture, tools, automotive parts, clothes, excess stock, files and gardening equipment.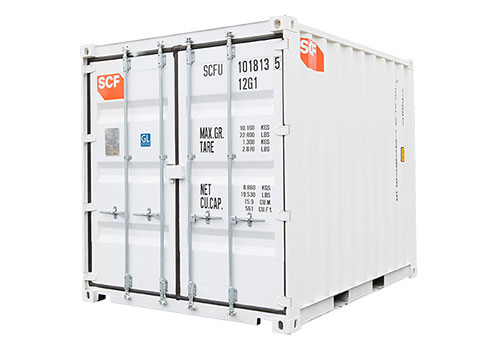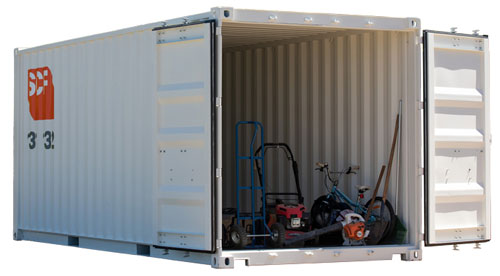 20ft Shipping Container
The 20ft shipping container is the most popular and common onsite storage solution within our range of shipping containers, and with good reason. It is strong, safe, secure and easy to transport.
Built from weathering carbon steel, our 20ft shipping containers are strong, secure, weatherproof units that safely protect everything inside. Their simple design makes them one of the most versatile transportable storage solutions available today.
20ft High Cube Container
Everything you love about the 20ft shipping container but with an additional 1 foot (30cm) of height for even more storage! It is strong, safe, secure, easy to transport and just that little bit taller compared with other shipping containers within our range.
This is the high cube variant that is the more popular version of the 20ft container. Why? Because the extra 1 foot in height provides a significant increase in storage without impacting the container footprint.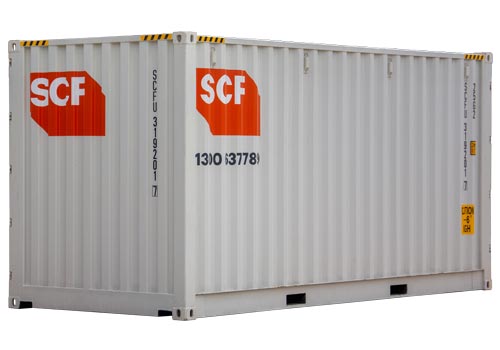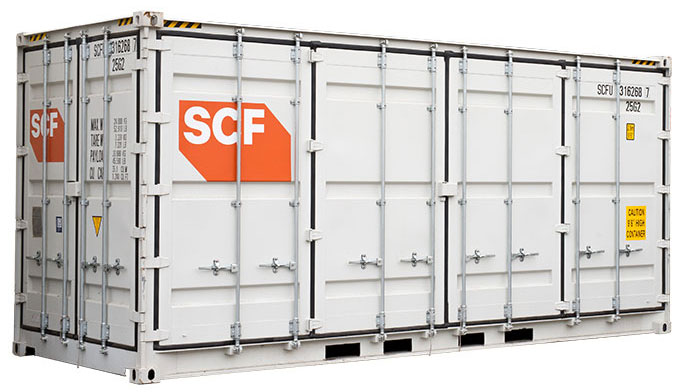 20ft Side Opening Shipping Container
SCF's 20ft Single Side Opening shipping container is one of the most flexible shipping containers available. By providing dual access points through the end doors or side doors, goods can easily be accessed with the ability to open doors for a whole or half side.
Built with high-quality materials, SCF's 20ft Single Side Opening container provides the ultimate flexibility when accessing goods.
40ft Shipping Container
The 40ft Shipping Container is twice the length of the 20ft variant, which means twice the internal storage volume. It is a good choice for large sites with a high volume of storage needs.
The shorter and less commonly available 40ft container is suited to large sites with ample space for onsite storage. Measuring just over 12 metres long, these usually do not suit standard residential blocks, although they can be squeezed onto large driveways in some cases.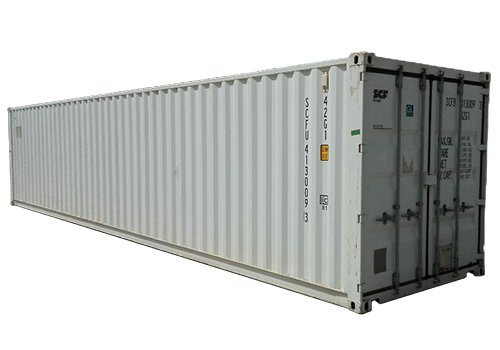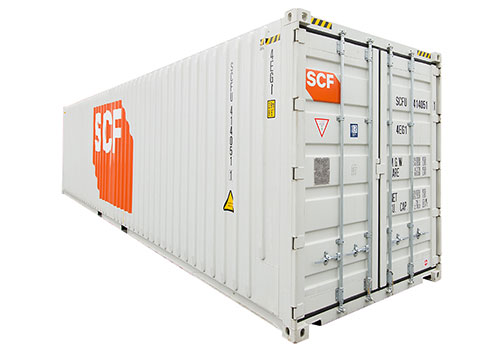 40ft High Cube Container
40ft High Cube shipping containers are popular for storing a large volume of goods on sites with more available space. This container size is also well suited to modifications, such as a workshop, shed alternative or to construct homes. One of the largest shipping containers within our range.
What our customers are saying
Shipping container applications
Our containers are used in a multitude of applications, from on-site storage, containerised offices or workspaces, refrigeration, intermodal transport and more. We have a range of container types and sizes available for hire.
It is that easy to hire?
We try and make it as easy as possible to hire a shipping container. Our Customer Service Team are highly experienced and can answer all your questions. This includes pricing, configurations, modifications, availability, product types and delivery.
They will often suggest a range of solutions that might best suit your needs. 
Do you have containers for hire near me?
SCF has a national depot network with new stock arriving regularly. We have a range of approved third party transport companies who can delivery your container via a range of methods, that best suit the container type and your property. 
How much does shipping container hire cost?
As a guide, the cost of hiring a 20ft shipping container will start at ~$2.75 a day, inc GST.
Shipping container hire is charged at a daily rate, inc GST. The first month must be paid in full, and then ongoing payments can be paid by direct debit each month.
In addition to the hire cost, you will also have to a pay delivery fee, a return delivery fee, called de-hire, and two lift fees in depot (for the retrieval of container and return placement in depot).
The cost of delivery and de-hire depends on how far away you are from depot. We can quote directly once you provide us with a delivery address.
What size container is right for me?
The right container size depends on three things:
How much stuff you need to store
How much room you have to store a container
How big your budget is
A 20ft container measures just over 6m in length, while a 40ft container measures just over 12m. Often residential homes struggle to fit a 40ft container onsite, especially with hazards such as trees, fences and power lines, which all impact delivery.
For a detailed looked at our container sizes, take a look at our Complete list of Shipping Container Dimensions and Sizes. 
Hire a 20ft shipping container
20ft shipping containers are the most common and popular container types to hire.
They fit in most drive ways and yards, and provide up to ~30m2 of internal storage space. 
Like all other shipping containers, they are wind watertight and vermin proof.
Hire a 40ft shipping container
40ft shipping containers are the next most popular container for hire. They are great for extra storage and properties with more space. 
The internal storage of a 40ft shipping container is ~63m2, while a 40ft high cube container, which is more common is ~71.6m2.
Ready to hire a container?
Sign up for news and specials