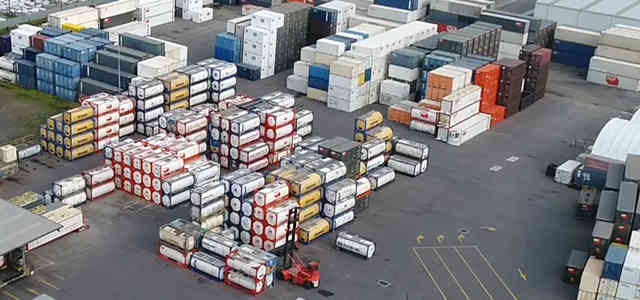 South West Sydney Shipping Containers
South West Sydney Shipping Containers Our Depot
8 Shaw Road
Ingleburn NSW 2565
Monday - Friday:
8am - 4pm
South West Sydney Container Depot
Our South West Sydney depot is located 7km from the Macarthur Intermodal Shipping Yard, 36km from Kingsford Smith Airport and 30km from Badgerys Creek Airport, which has been earmarked as NSW's new logistics hub.
At a Glance
Our South West Sydney container depot is in an industrial location, which has been purpose built for the safe storage and easy transport of shipping containers. 
Measuring 1,500m2 , there is space for container storage and minor maintenance and repairs. These are all conducted onsite by an experienced team of container specialists. 
Capabilities of Our South West Sydney Depot
Our South West Sydney container depot has a team of highly skilled trades that complete a range of works. These include:
Container modifications
Container repairs
Cleaning and deep cleaning
Electrical servicing
Plumbing servicing
Air conditioner maintenance
Types of Containers Available
Our complete range of containers are available from our Sydney depot and if we don't have it in stock, we will endeavour to get it in for you. 
The most commonly stocked container types are general purpose and high cube shipping containers, including:
---
Our Sydney Container Depot Also Stocks
Shipping Containers for Sale in South West Sydney
With larger block sizes compared to metropolitan Sydney, SCF sells a wide range of containers in south west Sydney. Depending on requirements, containers range in size from 8ft to 40ft. 20ft containers are the most popular, and also the easies to come by. They sit in the middle of best value for money storage because they are favoured by shipping lines and container factories alike.
People with larger blocks and bigger storage requirements tend to favour larger containers, such as 40ft units. These are more common in suburbs with larger residential blocks, further away from the CBD. 40fts are also popular in industrial areas where space is readily available. 
Smaller storage requirements or smaller blocks are better suited to 8ft, 10ft and 20ft containers.
Sites with easy access tend to be the most popular for container sales, where customers can place them out of the way. If you see a container on a driveway, chances are it has been hired. 
It isn't just containers for storage that are popular in south west Sydney either. There is a steady demand for Site Shed containers to support ongoing construction projects across Sydney and surrounds. Dangerous Goods containers are also popular for organisations need to increase their dangerous goods storage onsite. 
Shipping Container for Hire in South West Sydney
Container hire is popular in south west Sydney because of the affordability. For less than cost of a coffee a day, you can hire a shipping container for your temporary or ongoing storage requirements. 
They are commonly hired between moving house, during renovations, or for small business that require more storage. You could hire a container for multiple years before you paid the equivalent off a new purchased container. 
Built from steel, container hire is also often significantly cheaper than prefab portable storage style options too. They are also more sturdy, secure and weatherproof. 
It is not just shipping containers for storage that are popular for hire in south west Sydney. During warmer months, customers with temperature sensitive storage requirements look to refrigerated containers to support food manufacturing, or large scale events. Our site sheds are also a popular hire choice for the duration of a construction project.