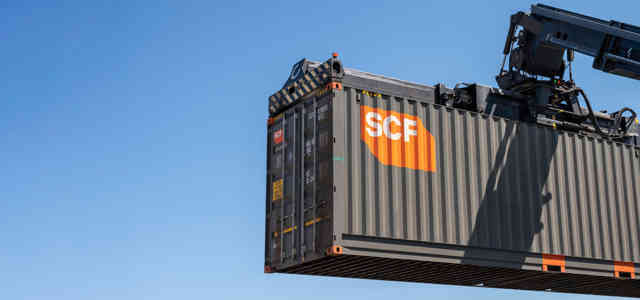 Shipping Containers Buying Guide – Everything You Need to Know
Is it easy to buy a shipping container?
Yes, it is easy to buy a shipping container. There are many shipping containers for sale on any given day.
Of course, it depends on a range of factors. The type of container, age, grade, size, stock availability at the time, and what you are intending to use it for. Not unlike buying a car, containers can be new or used, and vary in condition. So unless you're dealing with a recognised container manufacturer who has new builds in stock, it is likely you'll be buying a second hand container.
Use our guide to familiarise yourself with everything that should know before you buy a shipping container.
What Type of Container Should I Buy?
Want to buy a shipping container but you're not sure what to get? The best shipping container for you will depend on your needs. SCF has a wide range of competitively priced shipping containers for sale that come in a range of sizes. These come with various access methods (end doors and side opening doors). 


If you're planning to lock up and leave, then an end door variant would be a good option for you with a lockbox. It will also be cheaper than a side door container. However, if you plan to access the goods inside the container often, then a side door gives you more flexibility. You won't need to climb over your stuff, or leave a tight pathway so you can access all the goods down the far end.
Whichever way you go, your shipping container should be water tight and vermin proof.
What are shipping containers used for?
Shipping container homes are one of the more well known uses for containers, but in the scale of things, homes make up a very small percent of end use. They were originally designed for the transportation of goods on road, rail and sea. The external structure of containers provides protection from all sorts of weather, obstacles, pests and thieves. They can also be stacked on ships, in ports and at depots, which makes them easy to manage and store.
Transport
The original, and still the most common use for containers is intermodal transport. This is the transport of goods between locations, on the back of trucks or trains. 


Regularly transported goods include anything on pallets, furniture, boxed goods, equipment, food, other materials and even liquids.  Some goods have specific requirements to ensure they are delivered safely and within specification, like chemicals or temperature sensitive cargo. 
Containers have evolved to accommodate this, with the introduction of mezzanine decks to increase the amount of pallets that can safely be stacked and transported, or refrigerated shipping containers to transport food and other cargo at specific temperatures.
Storage
Shipping containers are also commonly used to safely store goods onsite. They are a low cost, safe and secure alternative to offsite storage facilities. They are also more convenient to access. 
Home renovations often benefit from a shipping container to store existing furniture and belongings during the build process. The container can be stored onsite only for the duration of the renovation.
In the absence of a shed, containers can be fitted with shelves and workbenches, then delivered to site. This reduces the cost, build time and paperwork that may be needed when you add a permanent building to your property. In addition to a bench to complete your next project, container workshops provide space to store your tools and equipment.
For dangerous goods, like chemicals, paints and flammable liquids, a Dangerous Goods container range is available. It comes purpose-built with added external vents, bunding to prevent spills and a safety drain valve for easy cleaning. They are used to free up space within a workshop or warehouse, or store chemicals onsite during increased production or projects.
Refrigerated containers have been used as onsite cool rooms. These are popular at events and festivals, or at businesses where stock needs to be stored at a specific temperature.
People
Shipping containers are used to store people, in short-term accommodation for remote workforces or during emergency response. 
They are also commonly used on construction sites as a range of solutions:
They are quick to deploy, can fit on all sorts of site sizes and can be stacked.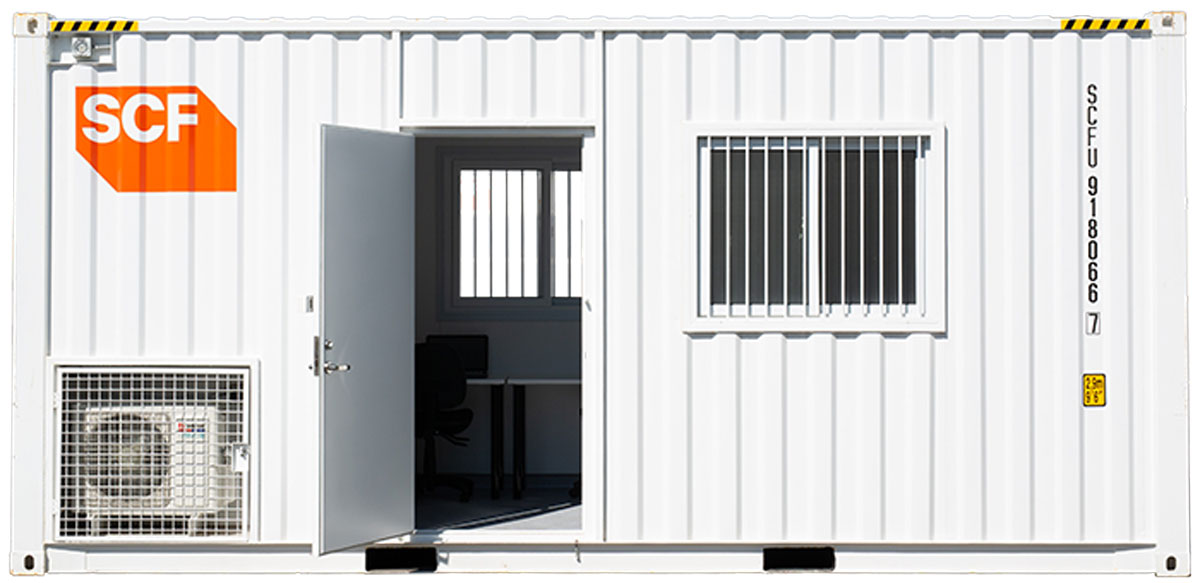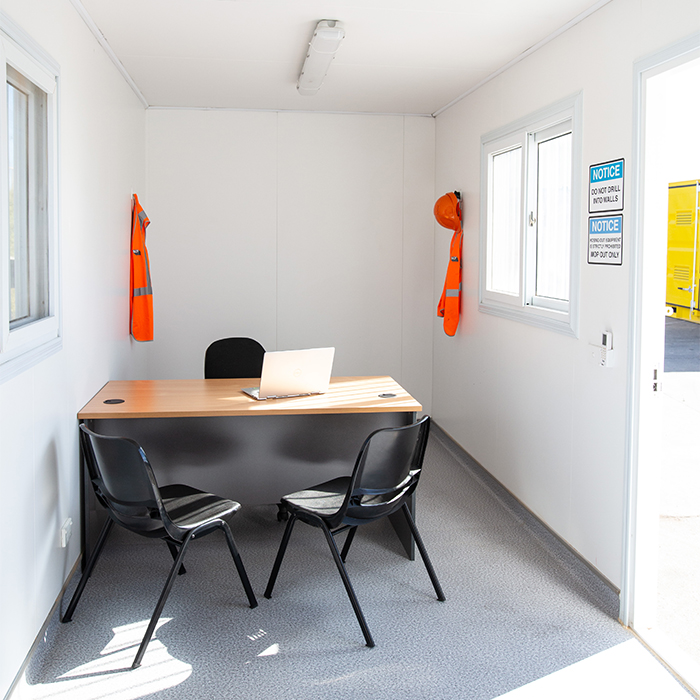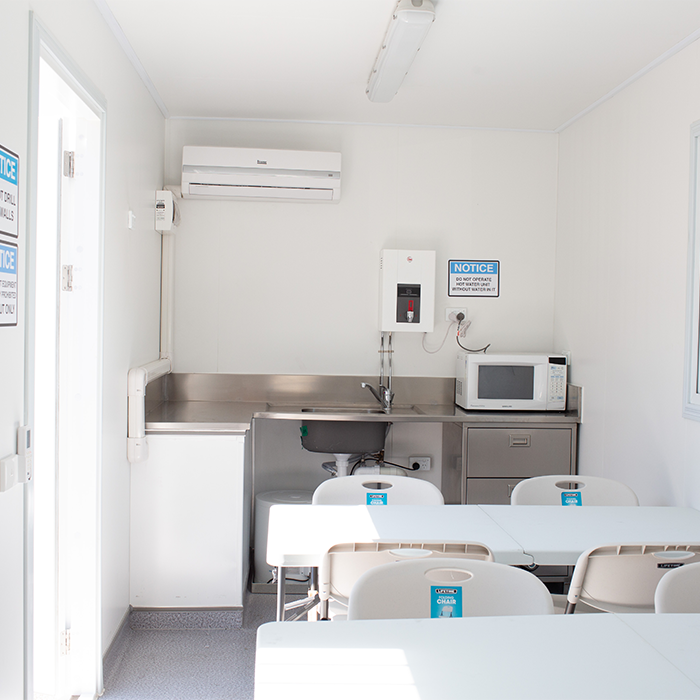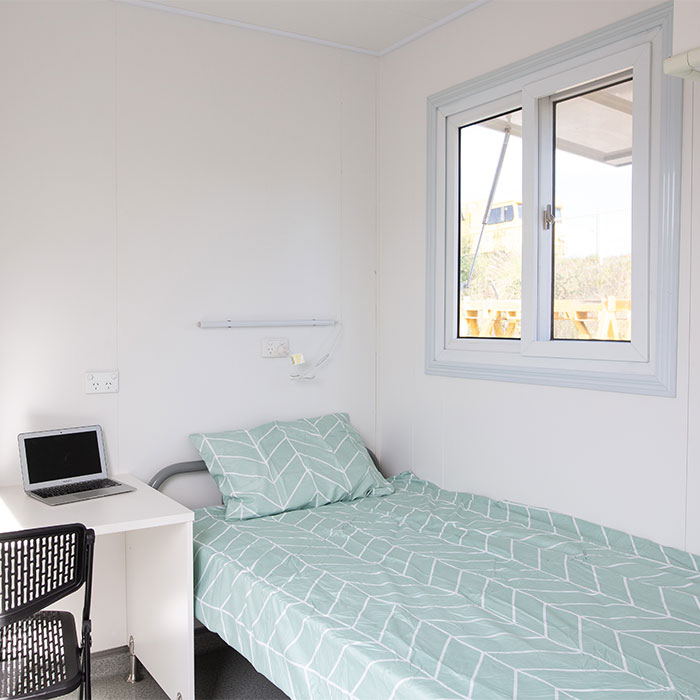 How much do shipping containers cost?
How long is a piece of string?
The cost of a shipping container depends on the type, features, the Grade, stock availability, current exchange rate and your location. For example, the cost of a 20ft General Purpose shipping container can be anywhere between $1,500 and $5,800+GST.
This is for the most common container available in the market. The price excludes delivery and lift fees. For this reason, it is difficult to provide an accurate price without understanding your needs first. If the container you require has more modifications or enhancements, like a portable building or refrigerated unit, pricing can vary even more. 
For more detail on the cost of shipping containers, take a look at our article, Shipping Containers for Sale and Hire - Price List.
Should I buy a New or Used Shipping Container?
This depends on two things:
Your intended use for the container
Your budget
New build containers are delivered straight from the factory. These units are clean, defect free and have few markings or no damage. As a result, they are the most expensive. In contrast, the condition and price of used containers can vary a lot.
Used container Example 1
6 months old
Hired out for a total of 3 months
Well maintained in a protected location, away from the elements
Located on a well drained site
It may appear no different to a new build container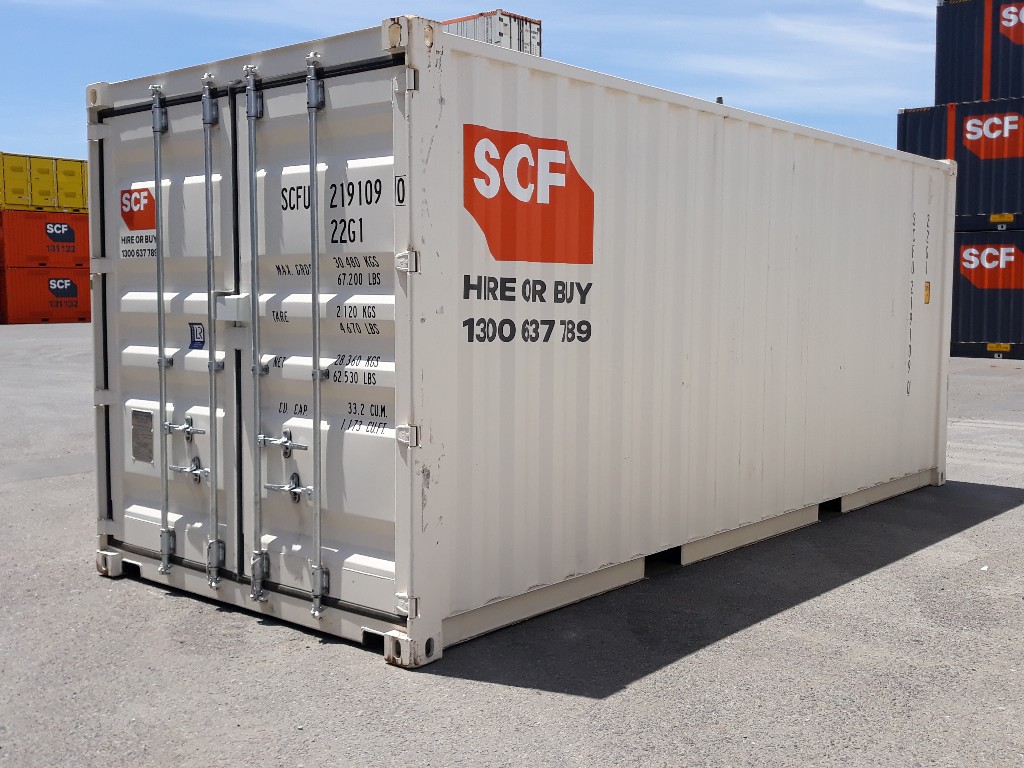 Used container example 2
6 years old
Been hired out multiple times
Located in a range of positions, through wet winters and dry, hot summers
Used for a range of storage purposes
Some visible rust on the exterior, with faded paint and decals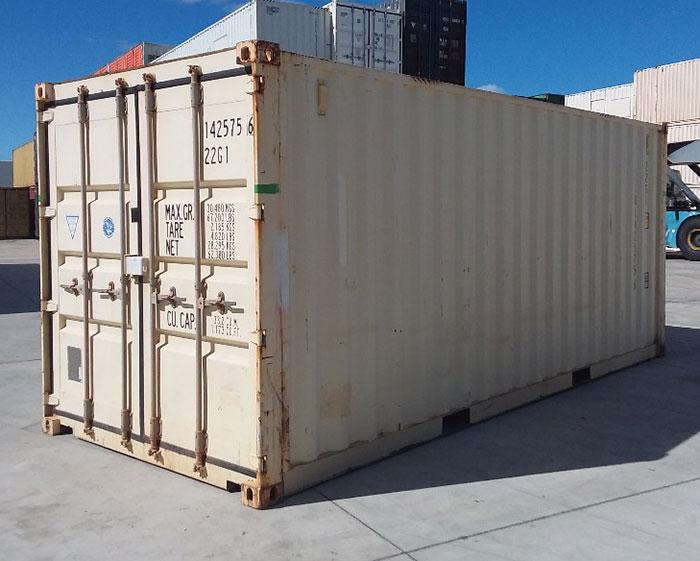 As a result, the value of these containers is different.
Container Grades were introduced globally to provide a universal rating for the condition of containers. They are one of the major factors that affects the price of shipping containers. 
New/Near New, A Grade and B Grade containers will all be wind and watertight. C Grade and D Grade are not guaranteed to be wind and watertight. Consider this if you plan to store goods that you want to protect from the elements. 
Be aware that not all container companies grade containers the same, so make sure you are comparing apples with apples. If you have more questions about Container Grades and our guide doesn't cut it, speak to one of our container specialists. They can talk about grades for days!
Looking for a cheaper alternative? Do you know you can also consider shipping container hire?
Can I tell what my second hand container has been used for?
Shipping containers can be used to store or transport many things. This can range from furniture, cars, bikes and equipment, dry foods, old clothes or even chemicals in some specialised containers.
If you buy a container from a 'trader', a business that buys used shipping containers that arrive from the sea on cargo ships, there is no way to tell what the container has been used for. You can have greater confidence if you buy from a container company that builds its own containers and runs its own depot network, because there is more documentation on the types of use the container is best suited to. A better understanding of previous uses, will help the container company identify a container that best fits your needs.
What container size is right for me?
There are three common shipping container sizes that you can buy. 
A 10ft shipping container, 20ft shipping container and a 40ft shipping container.
There are also less common sizes, from 8ft up to 48ft, depending on the application.
Take a look at our Shipping Container Sizes and Dimensions article for more detailed information on container sizes.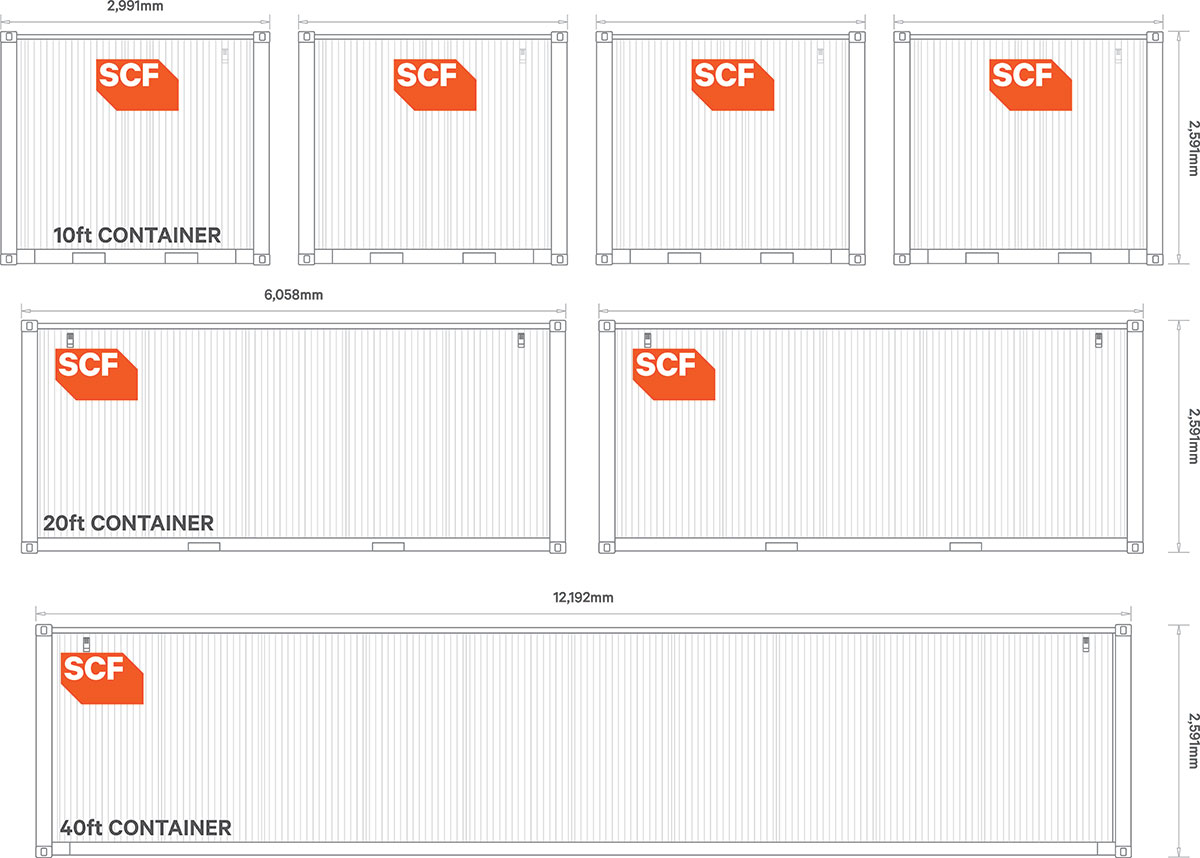 10ft Container 
If you only have a small amount of goods to store, then a 10ft container could be the best option. Measuring 3m x 2.4m (length x width), it takes up a small footprint. Like other containers, the standard height is just under 2.6m.
20ft Container
If you have more goods to store, then the next size up is a 20ft container. It is suggested that this can hold the contents of a three bedroom home. This container measures 6m x 2.4m (length x width). It also stands at just under 2.6m tall.
40ft Container
The third option for those with large storage needs is a 40ft container. This usually comes in a 40ft high cube version (see below). It measures 12.1m x 2.4m (length x width). It also stands one foot taller, at almost 2.9m.
How tall are shipping containers?
It all started with a 20 foot shipping container. Often referred to as a General Purpose or 'GP', the most common container type stands 8'6 tall (or 2.591m).
General Purpose or High Cube? 
Then SCF introduced the High Cube container that came with an additional foot in height, so you could store more goods. The footprint of the container is unchanged, so whether you get a 20ft or 40ft high cube, the space you require on the ground will be no different. If you need extra storage, then the High Cube is for you. It stands 9'6 tall (or 2,896m). Want to learn more about container sizing? Read our complete list of shipping container dimensions and sizes.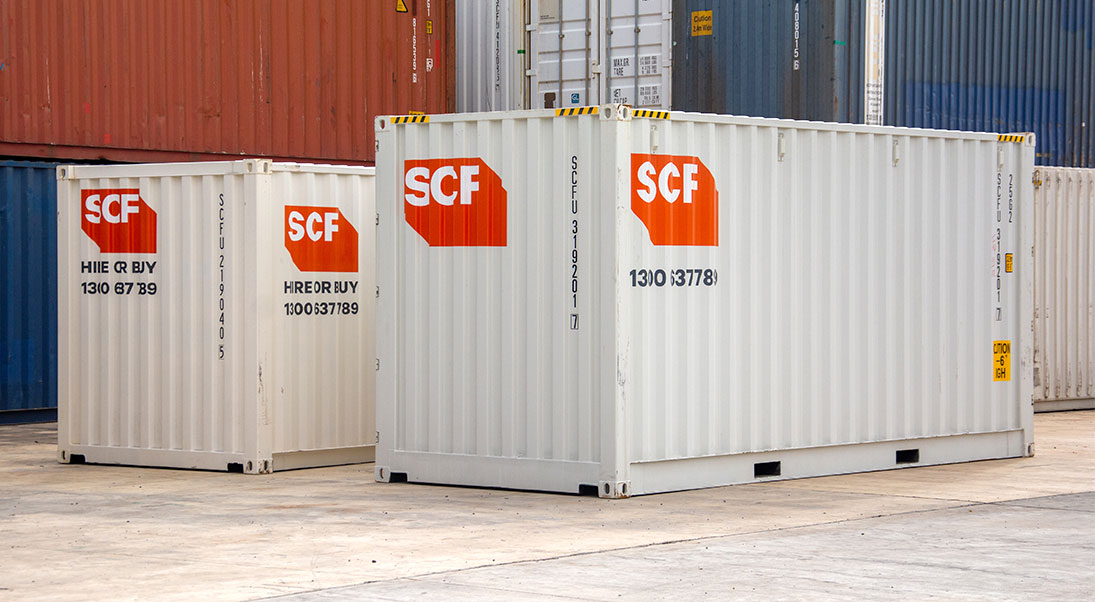 Can I take a look at my container before I buy it?
In most cases, yes you can. 
There are two options to inspect a container that you're interested in buying. We can send you up to date photos or you can visit one of our depots.
Real time photos
Our customer service team will send you current photos of the container you're interested in. Every time a container enters our yard, we take detailed photographs that are uploaded to our Catalogue System. We also capture photos every time a container leaves the depot. These photos are taken from the outside and inside of the container. Not only do we have written history of each container, we have a photographic history too. You can have peace of mind that what you see is what you will get. 
Depot Visit
You are welcome to visit one of our depots to inspect the container/s you're interested in. It is important to phone ahead to ensure we will have depot staff on hand to guide you through our depot.

We also take safety very seriously. Strict protocols must be followed by anyone that enters our yards. This includes all staff, suppliers and customers. 
How is a shipping container delivered?
Once payment is complete, SCF will organise the delivery of your container from our depot to your door. If your container is in stock, this can happen within 48 hours, sometimes sooner.
There will often be multiple delivery methods for your container. However it depends on the type and size that you have chosen. Below are the most common types of transport for your delivery to your site:
Tilt Tray
Tilt tray delivers a container off the back of the truck. Similar to a tow truck, the tray is mechanically lowered at an angle, and the container is slid off, with the truck moving forward at slow speed. This is the most common delivery method used for containers. Tilt trays are not suitable for sites with overhead power lines as the container height increases significantly when tilted.
Side Loader
Side loaders are used to transport our 20 foot and 40 foot shipping containers. This is the best delivery method for containers at sites that have limited space either in front or behind the area where the container is to be positioned. The container is unloaded between the two outrigger feet of the side loader, approximately half a metre from the side of the truck.
Hiab Crane
Hiab cranes lift containers from a mechanism located behind the truck's cabin. This is used for smaller shipping containers, usually up to 20 foot, or when there is limited space for a side loader or tilt tray. Using a crane means the container is easily positioned at an angle or up on a raised area. It can also be used to place containers over a fence or other obstacles.
The delivery method will also depend on obstacles on or near your property, and where you want it placed. Our team will recommend the best option, based on where you plan to place the container on your property. They will take into account anything on your site that could get in the way.  Make sure that you have cleared anything that could get in the way, such as garden tools, cars, etc.
Can I put it out the front of my house?
That's a question you will have to ask your council as each one has different regulations. We would not recommend placing a container on the road or in your driveway without talking to your council first. 
How long does a shipping container last?
Containers are designed to survive for a long time due to the type of steel they are made from.
The first question people ask when buying a container is, do shipping containers rust? New units will last longer, however with some preparation and care, older containers can last a long time too. Make sure the ground you plan to place it on will not be damp all year round. Moisture can cause the floor to deteriorate more quickly. Consider placing it on bricks, blocks or a location with well drained soil. Speak to our friendly team who can guide you on the best way to place your container if you need help.
Do shipping containers rust?
The natural properties of steel mean that containers will rust over time. However, setting up your site right is critical. Ensure it is not on damp ground, exposed to harsh chemicals or liquids, or constantly exposed to water (as in, every day) and your container should last for a long time.
Even with rust, shipping containers can remain watertight and vermin proof. Speak to your container supplier who will be able to confirm this on a specific unit.
How quickly can I get my container?
Once you have completed the paperwork and finalised payment for your container, delivery will be organised. 
Depending on the availability of your container and the delivery company schedule, it can be delivered within 48 hours. Sometimes customers can even get their container on the same day! 
Want to fast track your container delivery? Follow these steps:
Make a note of your preferred delivery date during the quoting stage. You can make a note in the online quote form or tell one of our Customer Service Team members over the phone.
Complete the paperwork as soon as you receive it, and return to SCF.
Pay for your container promptly.
Make sure the area you plan to place it is clean and easily accessible for the delivery driver.
Do you have many containers to choose from?
SCF services customers Australia wide. 
Unlike some companies, we manufacture our own containers. This gives us more control over build quality, design and stock levels. Our national depot network also ensures we have stock located near you. It keeps the delivery cost down and saves you money. Our fleet consists of almost 11,000 containers. So there is a good chance we will have what you need.
If we do not have the container you need, our skilled depot team can modify your container or get stock in for you. Common modifications include:
Electricity
Lighting
Air conditioning
Roller doors; and
PA doors
How do I purchase a shipping container?
Buying a shipping container is relatively easy. Once you have decided on a unit, you will need to pay the purchase price in full. This will include the transport cost and depot fees that may be included.
Payment options
You can pay with direct bank transfer. Once this has cleared, your container can be released from the depot.
You can also pay by credit card. Once this transaction is finalised, your container is available to be picked up from the depot. 
Still have questions?
Visit our FAQ where we have answered a collection of common questions. 
If you cannot find the answer there, contact our friendly team on 131 132. Or you can use our live chat. You know our team is online when you can see the Chat Now bar in the bottom right corner of our website.
Our Customer Service Team know containers inside and out, so we're confident they can answer your questions.
---
Share:
Subscribe & stay informed
Receive the latest in products, trends, news, events and tips.