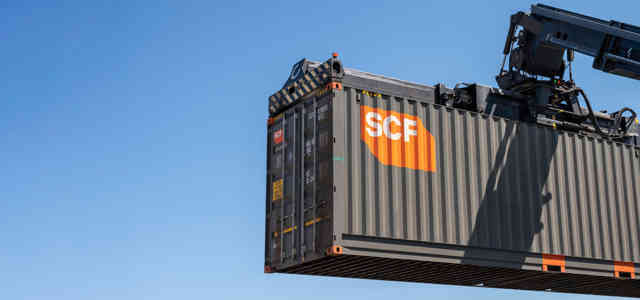 Skel Trailers - Increase your fleet utilisation and flexibility
Freight requirements change often, but your trailer doesn't have to. With a comprehensive range of container equipment types, SCF's Skel + Container combination provides a cost effective solution to quickly add fleet capacity and flexibility.
---
Increase your flexibility with a skel and container
The skel and container combination introduces a new world of flexibility. With the ability to quickly interchange the type of container on a skel, you can use the equipment you need, when you need it.
What are the benefits of a skel and container combination?
Match your container to your freight
SCF has been building containers for over 25 years. These are designed to store or transport specific freight, from pallets, temperature controlled foods and liquids, furniture and much more. 
Standard trailers are usually suited to a specific freight group. With the ability to quickly swap your container on a skel, you can hire a container to match your freight.
Short and long-term lease available
Different requirements need different supply options. Our range of containers can be supplied on short and long-term arrangements.
A hire option is an effective way to manage your cashflow, save capital and align your rental costs to the task at hand.
Hire it all from one supplier
SCF takes the complexity out of your equipment supply. One national supplier, one set of paperwork, one provider to support your needs.
From road to rail
Containers are not just limited to road usage. The skel and container combination is your key to unlocking the possibilities of rail. Australia's vast rail network allows you to service greater distances, reducing costs and complexity, while unlocking new opportunities.
---
Grow your business
Take advantage of SCF's skel and container to grow or compliment your existing fleet. Easily add rental equipment when needed to support your business growth.
Positioned for growth
Dry, refrigerated, bulk, liquid - there is a container to suit almost any cargo.
Containers allow you to quickly trial and develop new markets to grow your existing business or target new opportunities.
Lease what you need
SCF Skel and container equipment can be aligned to your changing needs. Save capital by hiring what you need, when you need it. Short and long-term rentals provide financial flexibility to improve utilisation without crippling your cashflow.
Capitalise on high demand
Peak periods, volume surges, new customers. Changing freight is hard to predict.
Rental allows you to quickly take advantage of opportunities and service your demand. You can also quickly reduce your costs at the end of a surge.
We know the intermodal market
Our business is built on successful relationships with small and large organisations across Australia's logistics industry.
We pride ourselves on delivering solutions and service to our customers to support their growth.
---
One Supplier
One supplier for your skel and container equipment makes it simple.
Locations
SCF holds stock across its national network of depots to support your business requirements across Australia.
Each depot also has a dedicated team of maintenance and repairs specialists, so we can make any fixes should something go wrong.
An accomplished fleet
With over 25 years in business, SCF understands the requirements of Australian logistics.
Our skels are built with local manufacturers to the highest quality standards, whilst our containers are built to meet the needs of Australian freight and the daily conditions it is subject to.
One supplier means less paperwork
Save time and headaches. One supplier means consolidated paperwork. 
Not sure which container is right for your freight? 
Share:
Subscribe & stay informed
Receive the latest in products, trends, news, events and tips.