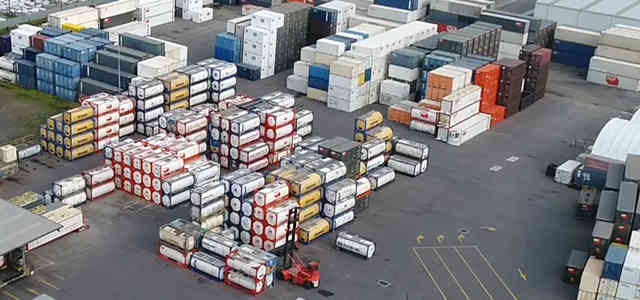 Sydney Shipping Containers
Sydney Shipping Containers Our Depot
23/25 Gould St
Strathfield South NSW 2136
Monday - Friday:
8am - 4pm
Sydney Container Depot
Our Sydney depot is located at a road and rail junction in Strathfield South, 17km from Kingsford Smith Airport and 33km from Badgerys Creek Airport, which has been earmarked as NSW's new logistics hub.
At a Glance
Our Sydney container depot is located in an industrial area, which has been purpose built for the safe storage and easy transport of shipping containers. 
Measuring 25,000m2 , there is ample space for container storage. There is also a dedicated undercover area for maintenance and repairs, which are all conducted onsite by an experienced team of container specialists.
Capabilities of Our Sydney Depot
Our Sydney container depot has a team of highly skilled trades that complete a range of works. These include:
Container modifications
Container repairs
Cleaning and deep cleaning
Container surveys
Electrical servicing
Plumbing servicing
Air conditioner maintenance
Types of Containers Available
Our Sydney depot stocks our wide range of containers. Our national depot network also enables us to source stock if we run out in Sydney.  
The most commonly stocked container types are general purpose and high cube shipping containers, including:
---
Our Sydney Container Depot Also Stocks
---
Shipping Containers for Sale in Sydney
SCF sells a wide range of containers in Sydney. With a wide range of block sizes (from very small to quite large), SCF sells anything from 8ft to 40ft containers to help people with their storage needs.
Larger containers are particularly popular for additional storage on large residential, rural blocks or industrial sites, where space is easy to come by. These are more common in suburbs with larger blocks, further away from the CBD. 
In suburbs with smaller blocks, 10ft and 20ft containers are contribute to most sales. This is mainly due to the limited space available. Sites with easy access tend to be the most popular for container sales. If you see them on a driveway, chances are they have been hired. 
It isn't just containers for storage that are popular in Sydney either. We see steady demand for organisations that want to increase their dangerous goods storage onsite. Our site sheds are also popular for purchase with the large amount of construction projects that are currently underway or planned in the coming years.
Shipping Container for Hire in Sydney
Container hire is popular in Sydney because of the short term storage requirements that may people have. 
Relocation or temporary storage until people can find a suitable new home, house renovations, or small business requirements are common reasons to hire. Charged at a daily rate, the initial outlay is much lower than buying a container. With prices lower than the cost of a coffee a day, shipping container hire makes sense. 
Interestingly, container hire is also often significantly cheaper than the prefab portable storage style options too. Containers are also more sturdy, secure and weatherproof. 
It is not just shipping containers for storage that are popular for hire in Sydney. Refrigerated containers are commonly hired for the warmer months to support food manufacturing, or large scale events. Our site sheds are also a popular hire choice for businesses who only need them for the duration of a project.